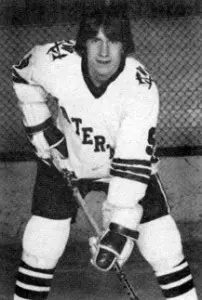 Hockey, Bseball, Track/F., Socr
As time goes by, more and more of the great athletes of the 1980s become eligible for Hall induction. Such a one is Joe MacInnis, a member of Watertown High's Class of 1984. Joe played four sports at Watertown High: soccer, track, baseball, and hockey; and it is this last which has earned him an enduring place in the WHS pantheon.
The WHS hockey team of the mid-1980s had enormous success on a statewide level, and Joe MacInnis was a vital part of that happy story. Dick Umile, his coach – now head hockey coach at the University of New Hampshire – recalls that "Joe was one of the primary players who took the program to a different level those years, He was the best forward in the league."
Longtime observers of WHS hockey agree. Richard Kashian, father of a flock of ice standouts, remembers Joe "as one of the most outstanding shooters I ever saw. He had stunning offensive skills. And at Northeastern I saw him develop his defensive skills as well; he became the complete two-way player."
Artie Venezia, a hockey parent and assistant coach to Umile, adds: "As a goal scorer, he was immense, one of the best. He was highly skilled, a hard skater, a hard shooter. A low-key personality, but he led by example. He had it all."
And so, during Joe's tenure, did the team. In 1983-84 the Raiders won the League Championship and made it to the Eastern Mass. semi-finals in the state tournament. Despite a tough loss to Matignon in the Boston Garden, the squad finished the season as the state's highest ranked public school team.
Already a Middlesex League All-Star in 1982-83, that senior season Joe went to a new level, scoring 27 goals (with 46 total points) to capture the league scoring title: as teammate Rich Kashian remembers, "anytime Joe's line was on the ice we could count on a shot on net: ' Joe was co-captain and team MVP; he was named league All-Star and Middlesex League MVP as well, along with All-Scholastic and "Hockey Night in Boston" All-Star honors. At WHS, he was named the senior contributing most to athletics. The award was well deserved.
Upon graduation, Joe went on to Northeastern University on a full hockey scholarship. One of Dick Umile's favorite memories – one shared by numerous Watertown fans, we suspect – is watching Joe score the game-winning goal in the first round of the Beanpot Tournament during his NU tenure, sending Northeastern into the finals for the first time in some years. And proving everyone's predictions right, Joe was drafted by the Toronto Maple Leafs upon graduation from Northeastern. A substitute teacher in the Watertown schools for some time and active with the town's Recreation Department, Joe currently works as a technician at the Hill-Rom Medical Company.
Coach Umile, in recalling the Beanpot, recounts a ` `pure feeling of pride, knowing that I had coached this incredible goal-scorer." That pride is shared by Watertown, knowing that Joe is one of our own – more so, because as Umile adds, "he was a great kid." Not only that, but a great asset to the Hall.