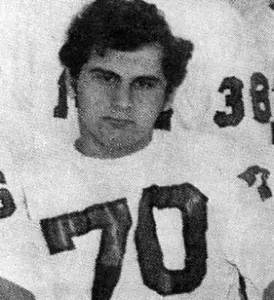 It is often said that participation in high school sports can provide us with great life lessons on the value of striving toward excellence, both individually and as a teammate.
These were lessons that Joe Antonellis learned as a football player at Watertown High School, lessons that he has applied in his successful collegiate career at Harvard University and in his professional life as an executive in the backing and financial industries.
However, all of this almost never happened.
"My parents, Italian immigrants, forbid me to play football," Antonellis said recently. "My older brother Dom, he played football at Watertown High (WHS Class of 1958), and it helped him get into Boston College, but he blew out his knee lifting weights, and my parents were afraid I'd get hurt, too."
"I had to sneak out to try out for the team. My uniform was all raunchy with sweat because I was afraid to take it home to have it washed."
By that point, Raiders head coach John Barbati and assistant coach Dick Mangerian had seen enough – enough to know that Antonellis was a talented football player, and, it was time to get the shirt washed and encourage Mr. and Mrs. Antonellis to let their youngest son play football for Watertown High.
"My father was working in the garden, and Coach Barbati and Coach Mangerian drove up to our house and spoke with my father," said Antonellis, who grew up in the West End section of Watertown. "After they spoke, my father said that I could play."
With that decision, Antonellis became the great student athlete, and person, the Watertown High School Athletic Hall of Fame has chosen to be inducted with the Class of 2006.
In 1971, Antonellis was part of the great "Front Four" on the defensive side of the football, a rotation with Mike Santoian and Antonellis as fixtures at the tackles, Richard Fico and Steve Rodriques sharing time along with John McManus and Dom Lalli.
The Raider –D was decisive in the first two games of the Fall 1971 season, as Watertown beat Woburn, 18-6, then shut out Wakefield, 27-0, to claim a 2-0 record. Thanks to the pursuit and tackling by Antonellis, Woburn's offense was held to 60 total yards. Then, a week later, an exasperated Wakefield coach Wilbur Halliday lamented that Antonellis and the Raiders, "they beat us to a pulp."
"Our team was really prepared for our senior season," recalled Santoian, (Hall of Fame Class of 2003). "We were Coach Barbati's first sophomore team as head coach, and he sent us to a week of football camp at Brewster Academy in New Hampshire. We practiced morning, noon and night – triple sessions – and that gave us strength and confidence, because we practiced and drilled against some tough upperclassmen."
"We took pride in our toughness," added Antonellis, who recalled that Watertown's opponent in Week 3 of the Fall 1971 season, Winchester, tested that toughness with best rushing offense in the Middlesex League. "We were down two points to Winchester and it was late in the game and Winchester had a first and goal. They tried to go left on three straight shots and we stuffed it every time. We took the ball back, but Winchester scored when our running back fumbled in the end zone and Winchester recovered."
Watertown won the following week against Melrose, 26-8, as Antonellis was credited with a block to free Ed Kasabian on the second of his three touchdowns in that win. While the Front Four was stout in Week 5 against Concord-Carlisle, the Raiders dropped that game by a touchdown, 12-6, and fell to 3-2 on the season.
Given that the Raiders were coming off a 3-6 record in their 1970 campaign, equaling the previous year's win total in just five games could have been heralded as a great accomplishment. But this 1971 team was hungry.
"The coaches had installed a weightlifting program for us – first everyone had to get into the 200 pound club, then the 300 pound club," recalled Antonellis, who started at left tackle on an offensive line that included co-captain Paul Warner, McManus at center, Rich Merullo, Mark O'Hanian and Santoian.
"We'd lift in the off-season and in the summer outside at the field house at Victory Field," Antonellis recalled. "We'd stay in town in the summer, landscaping or doing other jobs, then lifting at Victory Field. We were a tight group."
"Joe, Rich Merullo, Dom Lalli (HOF Class of 1997) and I were inseparable in high school, and we still are to this day," added Santoian. "We played on the same team in the town's Flag Football league in the summer, the Purdue Boilermakers, then we played together at Watertown High. We kept in touch in college and now, we have families and our kids call us uncle and auntie."
In Fall 1971, the Raider offense rushed for most of its touchdowns, calling inside traps and plays for pulling linemen to free up space for backs Kasabian, Lalli, Bob Porier and Rich Morrill (HOF Class of 1999). But as the left tackle, Antonellis was proud to make sure that quarterback Bob Colaggero had time to throw.
After defeating Reading (27-6) and Stoneham (23-16), Watertown missed its sixth win of the season in a narrow 14-12 loss to Lexington. However, the next game was Thanksgiving Day, against Belmont, the 50th meeting between the two rivals, and the Raiders won easily, 28-6, to reverse their fortunes from the previous year and conclude with a 6-3 record.
At the conclusion of the Fall 1971 season, Antonellis joined teammates Lalli and Morrill to play in the Agganis Memorial All-star game, where Antonellis earned MVP honors as a two-way tackle.
Due to his own hard work in the classroom and the emphasis his parents placed on his education, Antonellis had the grades and credentials to be accepted at Harvard. "Coach Barbati encouraged me to apply there and helped me with my application. Otherwise I would have never done it. He was special in that way."
Another coach, Coach Mangerian, would have an influence on the arc of Antonellis's career at Harvard.
"Before my senior season in high school, Coach Mangerian took me aside and told me that I should learn how to snap, to be the long snapper for kicks," Antonellis recalled. "I didn't know why – I figured I was a tackle, not a center."
"But Coach Mangerian would pull me aside and work with me on making my snaps before and after regular practice. I'd also get together with my friends, and, we'd go into an empty pool where I'd stand on one end and the other guys, holding a life preserver, would stand on the other end, holding it as a target for the football."
Due to his snapping ability, Antonellis was able to break through a logjam of talented lineman at Harvard and start in his sophomore, junior and senior seasons. Moreover, his snapping helped him contribute to Harvard's first-ever Ivy League Championship in 1975.
"There were 33 seconds left in the Harvard-Yale game. It was tied, and we were on the Yale 9 when Mike Lynch, the Sports Announcer at Channel 5, set up to kick the field goal for us," Antonellis recalled. "I told him before the kick to take his time, that we'd hold the line and wait and make sure the ball was set well before you try the kick."
"I thought it was going to help. Then Mike joked, 'That's great! Usually I just think about making the kick. Now I've got to watch for the snap too?'"
The snap and the kick were successful, a fact that legendary New York Times sports reporter Red Smith noted in praise of Antonellis and Lynch in his column. "It's a great claim to fame to be mentioned in a column by Red Smith," Antonellis said nearly 30 years later.
Antonellis graduated from Harvard with a degree in economics in 1976, and married his high school sweetheart, Mary Gaffey, a Watertown football cheerleader who earned a degree as a special education teacher at Lesley College. They have raised a son Brian and two daughters, Katie and Annie.
For the first 15 years of his career, Antonellis worked at Bank of Boston, many of those years in the auditing division, and earned an MBA degree at Bentley College at night. For the past 15 years, Antonellis has worked at State Street Bank, where he has received accolades as a top Chief Information Officer.
Antonellis also enjoys volunteering his time in the student reading program offered by Boston Partners in Education.
"Before I start reading a book, I ask the kids to raise their hands and tell me, 'How many of you have parents who are immigrants? How many of you speak a language other than English at home?' Lots raise their hands. Then I raise my hand and say, 'Me too,'" Antonellis said. "The kids are amazed when they see what is possible, that there's nothing stopping them from fulfilling their dreams."
All of this happened because Antonellis played football for Watertown High, and fulfilled the dreams of his coaches, parents, friends and community.