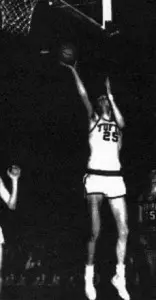 A "wiz in chemistry" and "towering in height" – so noted the Watertown High School yearbook of 1963 in describing the twin peaks of Jim Claffee. At 6'8″, Jim certainly towered above his classmates, and above the Suburban League competition. He also proved to be a "wiz" in various aspects of academe and the "real world" too, as a civil engineer, naval veteran, and successful banker.
These things were not, of course, unrelated. The common thread is Jim's leadership ability. Fellow Hall of Famer Ricky Grant, a sophomore on the WHS squad Jim captained, recalls that Jim was "clearly the leader of that team. He was a prolific scorer and an outstanding rebounder. But what I remember most is how he was so inclusive to the younger players. His style was completely unselfish; he always worked for, and within, the team." Jim's experience as an ensign and lieutenant on active duty during the Vietnam War from 1967 to 1976 provides similar lessons – there he earned a bronze star with combat "V" for his positions on aircraft carriers and frigates as well as serving as an advisor to the Vietnamese navy. And in his post-Navy career, too, Jim has been a leader, working his way up as an executive with the Bank of America. He became a senior vice president and division manager there before joining Security Pacific as an executive vice president in 1989. By 1997 he was chairman, president, and CEO of Citizens Bank of Connecticut. These days he runs the enormous Washington Mutual commercial banking operation for the southwest.
As a banker, Jim is used to letting the numbers do the talking. That works fine for his stellar athletic career as well. An extraordinarily quick and agile center, Jim averaged twenty-four points per game at WHS. In 1962-63 he was third in scoring in the Suburban League, and set two Watertown scoring marks along the way. He had the most points in a game – forty-one, against Brookline in February 1963. And he set the school's season scoring record with 477 points, a mark that would not be broken until Hall of Famer Billy Hatten came along in the 1970s.
Jim went on to study engineering at Tufts. And there, the litany of achievement went on as well. He was a thousand point scorer, still in the Jumbos' top 20 of all time – indeed, upon his graduation; Jim was third on the school's all-time scoring list. In both 1965-66 and 1966-67 he scored over 21 points per game, and shot over 50% from the field for his entire career. Along with his 21.7 points per game in 1965-66, he averaged 11.2 rebounds – numbers nearly duplicated the next season when he was a member of the ECAC's All East Division III squad.
As noted above, Jim went on from Tufts to join the Navy and begin a successful business career. We are proud that it all began here in Watertown – and that we can bring Jim full circle, to tower again so deservedly over his peers.