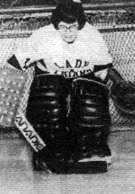 One day in 1976, Jane Ford was on a school bus, en route to hockey practice with her team. Blue lights flashed: the bus pulled over. It was boarded by a Watertown police officer who asked Jane to remove herself from the bus. He told her that she could not practice with the team. For Jane, you'll have noted, was a girl; the team was the West Junior High School ice hockey squad; and the Massachusetts Association of Junior High School Principals had decided that girls couldn't play contact sports. The patrolman had the unhappy task of enforcing that ruling.
But that day had a happy ending. In the short run, Jane was taken to school, where principal Jack Burns made sure her parents picked her up and got her to practice. In the long run, that truncated bus ride changed the face of Watertown sports. Determined to test newly enacted federal and state laws mandating gender equality in athletics, 13-year-old Jane went before the Watertown School Committee. The Committee voted to allow her to play and, further went on the next year to form a girls' hockey team at Watertown High, the first such school sponsored team in Massachusetts.
It should be noted that Jane was hardly a charity case for the West. From an early age, she was a noted athlete. She had even played the role of pioneer before, becoming in 1974 the first girl to play in Watertown Little League and blossoming into an All-Star first baseman. She later became a standout catcher for the WHS softball squad.
In hockey she had been a star on the Watertown Red Devils youth hockey team; at the same time she was establishing herself in extracurricular play with the all-girls Assabet Valley club. Assabet Valley won the Boston Arena Tournament in March 1976 and then, in April of that year won the girls' hockey national championship in the teen division. Jane was chosen for the national All-Star team. Similarly, the 1977 club ran up a record of 30-9-10 before entering that year s national tourney, en route to the national runners' up position.
So when Jane tried out for the West's goalie slot, she won it fair and square; her first game in the nets was a 14-1 drubbing of Rindge Tech. It was not an easy road – several towns threatened not to play Watertown if she were playing, and derogatory remarks came her way with some frequency. Her teammates, though, were unreservedly supportive. She also has fond memories of the efforts of West principal Burns, and of Coaches Devaney, Vlachos, and Tremarche. "They taught me a lot about goaltending," she remembers, "and a lot about teamwork."
Those lessons were put to good use as Jane moved to Watertown High. The varsity girls' ice hockey squad, coached by Peter Pomponi, posted a 3-0 shutout of Concord in its very first home game. The team tied for first in the league that first season, with Hall member Susan Duffy and Jane leading the way.
After Jane graduated from WHS in 1979, she rejoined Duffy at Providence College – and the Friar hockey squad, not surprisingly, made some noise. As a freshman, Jane was deemed "unbeatable in the nets," leading PC into the EAIAW championship game with 34 saves "many of them spectacular" raved the Providence Journal – in a 5-3 victory over Cornell. Providence posted three straight 20-win seasons for a four-season tally of 79-17 during Jane's career there. In the Friar nets she posted a sparkling career goals-against average of 2.46 to go with seven shutouts and a save percentage pushing .900.
After graduating from PC in 1983, Jane went on to work as a goalie coach for the French Hockey Federation. The team won a silver medal at the World Championships held in Grenoble, France, and went to the 1984 Olympics. Since then, Jane has kept busy nurturing the next generations of Olympic athletes. She's served as head of women's hockey for Massachusetts and New England, organizing state and national tourneys. She served on the selection committee for the U.S. women's national team and worked to organize the first team of U.S. women to play internationally -laying the groundwork for women's hockey gold at Nagano this year.
Long ago, Jane recalls, teacher Eleanor Donato urged her forward, saying, "You have the courage to do it." Jane did indeed -and thus was born a Hall of Fame career. She made breaking new ground seem old hat; Watertown's athletes, and athletic programs, have been only one of many beneficiaries.