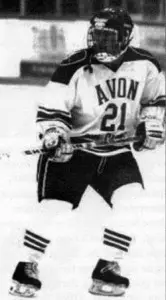 Baseball, Football, Hockey
"Pound for pound the best," said one coach. "I just marvel at the things he can do despite his size," said another. "The Tasmanian Devil with a purpose," said a third. Jamie Venezia, it might be fairly said, is the personification of the cliché that good things, and great athletes — come in small packages.
As Watertown High football coach John Barbati put it, "He's probably the one of the smallest guys to play two ways in our league since I've been around. But he's an inspirational leader on our team. He never takes a step backwards when he gets hit." Toughness was certainly part of the 5'5″, 155-pound, package. He's "one of the top five toughest football players I have coached in over thirty years," Leo Harrington chimed in. "The toughest athlete I have seen at Watertown High," added someone who should know, WHS trainer Steve DiBenedetto. Whether it was on the diamond, the gridiron, or the ice, Jamie Venezia was a true competitor, and a winner.
It probably didn't hurt that Jamie grew up playing against a wave of great athletes in his Victory Field neighborhood, from various Khozozians and Kashians to older brother Mike. By 1988 he had been selected to a regional Pee Wee hockey All-Star team representing the Boston area in a Quebec tournament. He was a regular on the WHS varsity hockey team that winter, tallying eighteen points as a freshman. By his sophomore season he was a Middlesex League All-Star, and led Watertown to the Massachusetts Bantam Championship to boot. The next year he ranked 4th in league scoring with 39 points while leading the team to the Division I state tournament with a 15-6 record. The Raiders made it all the way to the state semifinals before falling to Brookline in double overtime. Jamie was named to the all-tournament team along with his many other all-star honors that season.
Captaining the squad his senior year, Jamie broke his shoulder blade. He missed a grand total of seven games B to which the Reading hockey coach responded, "You've got to be kidding me. I have players stay out longer with a sore finger" B and won team MVP honors as well as a repeat of his all-league recognition. His own coach, Paul Cedorchuk, was grateful to have him back: "he just makes things happen, from pure hustle, on the power play, killing penalties, in crunch time. He's a great player who goes from one end of the rink to the other."
Jamie did the same on the football field, where he played both tailback and outside linebacker. Junior year he won the Elks Trophy for the most outstanding defensive play in the Thanksgiving game against Belmont. His senior season he was a Middlesex League and Tribune All-Star as he led the Raiders in all-purpose yards and scoring. He scored nine touchdowns, including the only touchdown in a stunning 8-3 upset over undefeated (and defending Super Bowl champions) Winchester. He also was among team leaders in tackles, including a game-saving stop on fourth down to preserve the Winchester win. And it should be mentioned that, each spring, he rounded out the year as solid second baseman for the WHS nine.
After graduating from WHS in 1992, Jamie went on to Avon Old Farms prep school, where he helped the nationally top-ranked squad to the New England Prep School Championship "for good measure, he scored the game-winning goal in the championship game." From there, he went to the University of Connecticut. Once again he was a four-year varsity player, chipping in eight goals as a freshman and tallying twenty-five points in twenty-five games as a sophomore. As a junior, he was selected to the SNET all-tournament squad; he was senior assistant captain his last year, member of the Quinnipiac Tournament all-star team.
All told, at UConn Jamie racked up 87 points, good for 25th on the school's all-time list: appropriately, he scored the last goal at UConn's old rink in 1998. And his toughness shone through too, as he played in over one hundred games, ranking 15th in the UConn record books. He remained, and remains, as Cedorchuk once put it, "Talented, tenacious, and focused." Those are Hall of Fame qualities. And the Hall is happy to recognize them this spring.