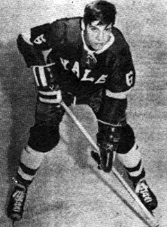 Jay Luck graduated from Watertown High School in 1958 after an outstanding track and field career. He ran in sprints, relays, high hurdles, and low hurdles, winning the Massachusetts Class B indoor and outdoor high hurdle championships in 1958 as Watertown took the state championship. That year he was also the National Junior Indoor Champion on the high hurdles.
Jay went on to Yale University and the track team there, and continued to excel. He was named captain of the 1961-62 squad and won the IC4A outdoor championship on the 400-meter intermediate hurdles in both 1961 and 1962. At Yale he won the Millet Award as "the member of the track team who excels in sportsmanship, courage, and inspiration" as well as the Mallory Bowl, which is "awarded to that undergraduate who . . . best represents the highest ideals of American Sportsmanship and the Yale tradition."
In 1964 Jay was named to the United States Olympic Team. He competed in the 400-meter intermediate hurdles and just missed a medal, finishing fifth. He followed up by competing in the 1965 championships against the Soviet Union, and was a member of the victorious 1600-meter relay team. He became active in the sport's administrative angles as well, chairing the Yale University Council Committee on Athletics and serving on the U.S. Olympic Committee on Track and Field.
During all this time Jay was also an outstanding academic performer. His bachelor's degree is in electrical engineering, and in 1964 he followed this up with a master's. He earned his doctorate in 1967, writing a thesis on automatic speech recognition, and now works for the GTE Corporation in Waltham, where he researches advanced communications systems.