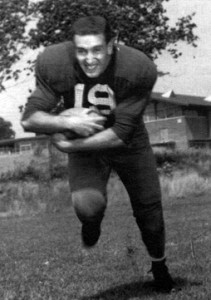 Even now, over fifty years later, they still laugh about it.
In a game against Winchester, Jim Desimone's Watertown High teammate and fellow defensive end Paul Franchi combined to tackle the opposing quarterback for a sack. In the process, though, they knocked each other out as they both laid on the field unconscious before being revived minutes later by smelling salt.
"I found out the hard way how strong he really was," Franchi said of DeSimone, a class of 1955 graduate who will be inducted into the Watertown High Athletic Hall of Fame on May 9. "And he came at you so fast. I'm glad I didn't have to play against him."
Strength and quickness were a big part of DeSimone's game and certainly a big reason why two of the team's he played on went on to win Class B State titles. His coach during those two consecutive state championship teams (1952 and 1953) certainly knew how lucky he was to have a guy like DeSimone. Head coach Joe Zeno, who would finish his Red Raider coaching career during DeSimone's junior season in '53, would speak very highly of his defensive end before he departed.
"Coach Zeno called him one of the best defensive ends in the entire Commonwealth of Massachusetts," DeSimone's teammate and fellow defensive lineman Lou Romanelli said. "And believe me coach Zeno knew what he was talking about. He played professional football (played offensive guard for the Washington Redskins and the Boston Yanks) and he knew whom the especially talented players were. I thought when Zeno said that it was the ultimate compliment and a great attribute to Jim's talents. I never felt Jim got even close to the notoriety he deserved because he was always so quiet but as a teammate of his I knew how good he was. He made everyone else's job on our defense a heck of a lot easier because he forced the players to run in our direction because they wanted to stay away from him."
Zeno would then give way to head coach Vic Palladino for DeSimone's senior season in the fall of 1954. The Raiders didn't have the same success they had in the previous two years but it didn't take the new head coach long to realize that he had a special talent in DeSimone. Almost immediately he was impressed by his toughness and speed and so when he had to re-shuffle his backfield due to an injury to quarterback Tony Taverna, Palladino knew whom he wanted to fill the vacant fullback spot.
In his very first game as fullback, DeSimone let his coach know right away that he made the right choice as DeSimone shined brilliantly in yet another unforgettable contest against Winchester. In a game that will go down in history as one of the most memorable Red Raider football games, DeSimone scored two touchdowns in helping his squad to a 20-20 tie against the Sachems, who were led by running back Joe Bellino. Bellino, who would later become a Watertown resident and is mostly known for capturing the 1960 Heisman Trophy while at Navy, also had two touchdowns in this game and it looked like his second one, which gave his team a 20-14 lead, would hold up.
However, a guy wearing a number 58 Watertown jersey had other ideas. With under two minutes to play in the game DeSimone made a huge play by blocking a punt and then quickly preceded to tie the game on offense when he ran one in from 19 yards out. The Victory Field crowd went crazy anticipating a great come from behind win but a missed extra point by Bob Loprete turned this classic into a draw.
"It would have been great to win that game," DeSimone said. 'I thought we had it because Bob hardly ever missed. But I tell you that game was still the most memorable game I ever had playing for Watertown and there were a lot of great memories there.
"I'll never forget the way coach Zeno's cigar always dangled from his mouth and that compliment he gave me always made me feel pretty good. I really had two great head coaches but I have to give a lot of credit to my defensive end coach Charlie McGann. He really worked with me hard and helped me become a better player."
Among the personal accomplishments in his high school football career, DeSimone was named a member of the Waltham News Tribune All-Scholastic Team as defensive end, received honorable mention from the Boston Post as a fullback, and was also named a West Suburban All-Star picked to play in the Kawanis Charity game at Haverhill Stadium. However as good as he was in football, he was equally impressive in track and field. During his time at Watertown High, the Raiders already had an outstanding track tradition. DeSimone simply made it even better helping the team earn the 1954-55 state championship.
DeSimone was talented in many events and gathered a countless amount of track accomplishments in his three years participating in indoor and outdoor track while always excelling at the state meets. DeSimone's great speed would help earn honors in hurdles, dash, and relays, including a second place finish in the hurdles at the state meet during his senior year.
It was the strength, though, of the 6′ 195 pound athlete that would earn him his most memorable track achievement as he became a record holder when he shattered the state meet record in the javelin with a toss of 150' 1/2″. All and all DeSimone had quite an impressive medal collection winning five golds, three silvers, and one bronze.
"While I was in high school I remember a bunch of us athletes talking about who would be the best candidate for a decathlon," Romanelli said. "We all agreed that Jim was definitely the best choice. I can't emphasize enough how good an athlete Jim really was."
DeSimone, though, got an idea how good he might be me when he was a child.
"Ever since I could remember I just loved to run," DeSimone recalled. "I always used to want to race against other kids in the neighborhood. I always beat them. I can't remember one time I lost a race. I couldn't wait for high school because I couldn't wait to play football and run track at Watertown High."
His talents at Watertown High would not go unnoticed. Although he didn't start playing fullback until his senior year, the University of Nebraska recruited him for that spot and DeSimone was off to Lincoln. As a member of the freshmen Cornhusker squad, DeSimone had to compete against 11 other fullbacks and decided that even though he was good enough to make third string, he wanted to be more involved so he left Nebraska and came back to Massachusetts where he enrolled at Brandeis University.
There, he impressed another head coach and another former NFL player in Ben Friedman (inducted into the Pro Football Hall of Fame along with Steve Young and Dan Marino in 2005) so much that he allowed DeSimone a ton of playing time at both fullback and linebacker.
"I really enjoyed playing football and running track in college as well," DeSimone said. "I had some nice memories there but I would say that my high school days were among the best days of my life."
After graduating college as an Anthropology major, DeSimone took on various jobs. Among them was service in the Army where he was stationed in Frankfurt Germany. There, he learned the language and later taught German at Waltham High School. In the 1970's he taught at Lincoln Sudbury where he earned merit status and also became track coach there.
While I was coaching track I had a boy named Dick Bymington, "DeSimone proudly said. "He would turn out to be the only high school distance runner to defeat Alberto Salazar."
Later in life DeSimone earned his masters in German Literature at Boston University and also became a member of a senior athletic club where he continued to stay active. There he would sometimes run into old friends and teammates like Nick DeNitto who loved to recall the Watertown High School days.
"I was a sophomore when Jim was a senior," DeNitto, who played football with DeSimone on the 1954 Raider squad, said. "I remember Jim being so quick and an extremely hard worker. He earned a lot of accolades on effort alone. He was also a very gracious and kind human being. He was always a gentleman.
The funny thing, though, is that my first memory of him was watching him put his equipment on. He was so slow getting ready and the last guy to come on the field. I said to myself that this guy isn't going to do much for this team. Boy I couldn't have been more wrong."