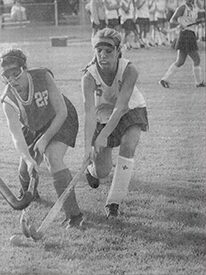 Growing up near Victory Field, it was impossible for Jay Quinn, Class of 2002, not to be aware of the tremendous history and success of the Watertown High field hockey program.
Her older sister, Lauren, was among the Middlesex League's best players and leading scorer during her WHS career before playing four years at Princeton. And, though she played youth soccer growing up in town, Jay Quinn also had a close friendship with the field hockey family of Bethany, Jane, Catherine and Mary Rogers, which eventually led her down the path to WHS field hockey, its winning tradition and success as a captain, All-American and state champion.
Quinn jokingly said that after her first practice as a freshman she could barely walk. The program was coming off its seventh overall state title, and she couldn't wait to be part of the prodigious program.
Watertown coach Eileen Donahue said, "She was a natural athlete with tremendous stick-handling abilities. But her greatest asset may have been her vision. She could see everything on the field."
Her vision, along with a high level of versatility, led Donahue to feel comfortable with Quinn practically anywhere on the field, saying "she could clearly handle multiple positions with ease. She had the gift of making her teammates better."
As a freshman, Quinn played four different positions in the starting lineup for the Middlesex League champs.
Over the course of the next four years, Quinn solidified her position in the starting lineup and continued to play and dominate all over the field. She was part of four consecutive Middlesex League championship teams.
"She was never worried about personal stats," Donahue said. "She was a great team player, who excelled at making her teammates better players."
As a sophomore she helped lead the program to another state championship game, only to lose a heartbreaking 2-1 overtime game to Greenfield. Quinn's junior year ended in disappointment as well. After an undefeated regular season, the Raiders fell in triple-overtime in the North Divisional final. As she headed into her senior campaign, Quinn was determined to "not disappoint the coach and the town by not winning a state title. There was no way I was going to lose my final game in Worcester as a senior."
During preseason camp Quinn settled into the center-forward position and was soon commanding the offense. The only regular season blemish was a 2-2 tie with Reading in the sixth game of the season. In the late season rematch, Quinn and her teammates outshot the Rockets 15-4 in a 2-0 decisive victory to wrap up the League title with a record of 17-0-1.
Quinn was the league's leading scorer, and for her efforts was named the Most Valuable Player. Her goals, however, were more team-oriented.
"We had to take it one game at a time," Quinn said. "We talked about it all season. Focus on the game at hand, and everything else will take care of itself."
With Quinn helping lead the way the top-seeded Raiders opened the tourney with shutout wins over Rockport and Tewksbury. It took OT, but a thrilling 2-1 win over Georgetown clinched the D-2 North title. In the Eastern Mass. final, Quinn added 3 goals and 2 assists in a huge 6-1 win over Dedham, propelling them into the state final against Nipmuc Regional.
Adversity struck as Quinn badly sprained her ankle with about 16 minutes left in the game, and Nipmuc quickly took a 2-1 lead with her out. On the bench, and with her back to the field, she "heard them score. I knew I had to get back in the game. But I didn't think I could push off it at all. But I also knew that my teammates needed me in there."
Donahue called a timeout, Quinn went back in, and with just over five minutes to go, she incredibly assisted on the game-tying goal. She was limping badly, but stayed on the field for rest of regulation an eventually into overtime, when fellow senior and Class of '17 Hall of Fame inductee Sara York found the back of the net for the game and state title winner.
Quinn was named a Northeast Regional All-American. She attended Northeastern and enjoyed a successful field hockey career, concluding with her selection to the America East All-Conference team.