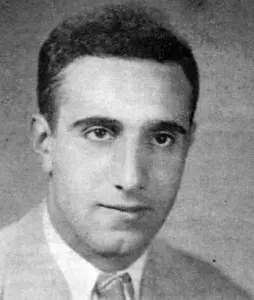 FOOTBALL, TRACK/FIELD, BASEBALL
As seasons in a man's life go, the three sports seasons in Jack Charshoodian's senior year at Watertown High were exceptional.
In the Fall of 1949, Charshoodian was a speedy running back for the Raider varsity football team that prevailed in eight of nine regular season games to compile one of the best records in program history.
New records were the hallmark of the indoor track team in winter 1949-1950, and Charshoodian set one of those records as the first leg on the 4-by-400 meter relay team that won a State Title.
When winter turned to spring, Charshoodian picked up his third baseman's glove and joined the 1950 Watertown High baseball team. Charshoodian's bat helped propel Watertown to a Suburban League Championship and an opening round playoff win at Nickerson Field in Boston, then the home of the Boston Braves major league baseball team.
Two of those three Watertown High teams are now in the School's Athletic Hall of Fame: the 1949 football team inducted this year and the 1950 baseball team inducted in 2002. So, it is fitting that Charshoodian, a big part of those team successes, is also a member of the Hall's Class of 2006.
"Jack Charshoodian was fast and flexible and brought leadership to our team," recalled Gene Renzi, a retired two-star Army Major General who was a teammate on the 1949 Raiders.
"Jack was an outstanding running back and defensive back. If it was third and goal, fourth and one, tough yardage, Jack was your guy, you gave him the ball. If there was a key guy on the other team that had to be covered, had to be hit, Jack got that assignment."
Renzi and his older brother Phil Renzi, a captain of the 1949 Raiders, grew up in the same East Side neighborhood as Charshoodian. As kids, they would team up with Phil and Paul Stackpole and play pickup games with kids from other neighborhoods around town.
"We played a lot of ball together in those days, with the Renzis, the Stackpoles, the Shannons, and we'd later play together in Junior High School at East Junior High, when the Town had an East and a West Junior High," Charshoodian said. "We'd call up guys in the Charles River neighborhood, or on Cottage Street, or in the area around West Junior High to play football or baseball in the spring and fall."
In Fall 1949, these young men from different neighborhoods were forged into a cohesive unit.
"Coach Joe Zeno, that was his first year, and he taught us different plays, and everything seemed to work," said Charshoodian, who rushed for at least 100 yards and a pair of touchdowns in a 20-7 Watertown win in the season opener, the headline for the game-story on page one of the September 30, 1949, Watertown Sun proclaiming, "Towners Top Dedham, 20-7, As Charshoodian Shows His Speed."
"I remember going to games, having such confidence that we could do well."
With each week, and each win, that confidence grew – Winchester, New Bedford, Wakefield, Woburn, then in Week 6, Fitchburg.
"Fitchburg came into the game undefeated, 5-0, like we were, but we were confident in our game plan," recalled Charshoodian, who grabbed a 79-yard TD pass and set up another score when Jim Lopez faked a punt and passed to Charshoodian for a 16-yard gain in a 34-13 triumph, boosting the Raiders to an impressive 6-0 record.
Charshoodian and the Raiders would make it seven straight the following week against Brookline in a 26-0 rout. Charshoodian caught the final two touchdown passes in that game and picked off a Brookline pass to lead the Raiders to a third shut out win.
The Watertown Sun reporter raved about Charshoodian's second TD.
"The second was one of those plays that belong in the book," said the Watertown Sun reporter in praise of Charshoodian, whom he gave the nickname Choo-Choo. "With a Brookline player at either side, he leaped high in the air for a basketball catch of the oval."
Due to injuries, Charshoodian was limited in the final two games of the Fall 1949 season. Although the Raiders win streak was snapped at seven against Arlington, the Raiders rallied to squeak by Belmont, 14-13, on Thanksgiving, and Charshoodian was named Most Valuable Player for his valiant effort.
For most of his teenage years, Charshoodian played basketball in the winter. However, his friend Andy Dadagian successfully convinced him to join the 1949-1950 Watertown indoor track team.
"Andy was a three season track athlete, and he thought I could compete in the 300 and the relay," Charshoodian recalled. "I was a senior and about five-foot-eight at the time. It was an ok height in junior high, when everyone else was that tall, but, the kids on the basketball team were six-foot-one, six-foot-two and still growing!"
Indoor track practice was held in the top floor of Watertown High School on Columbia Road, where the runners would practice in the corridors and perform drills and learn techniques from Raider coaching great Arthur Perkins.
Charshoodian won most of the 300 races at local meets, and took third in the State in that race, remarkable for a first-year athlete. However, in the 4 by 400 relay, Charshoodian would team up with his friend Dadagian to win a State title.
"They had me run the first leg, and Andy ran the fourth leg," Charshoodian recalls. "It was an exciting accomplishment, and in Arthur Perkins, we had a very good coach."
In Spring 1950, Charshoodian grabbed his third baseman's glove and rejoined his friends from the East Junior High neighborhood to play baseball for Watertown High.
Nick Avtges, a teammate of Charshoodian's on the 1949 Raider football team, was the scorekeeper for the 1950 Watertown baseball team, and recalled that Charshoodian hit for an average well over .300.
"Jack Charshoodian, Phil Renzi, Dick Shannon, they were all over .300 that year," Avtges said recently. "That was a team that had three players signed by major league teams – Phil Renzi was invited by the Red Sox to play for their Augusta, Maine, team, Dick Shannon was signed by the St. Louis Cardinals, and Phil Stackpole, our catcher, was also a Red Sox prospect."
Charshoodian was a line-drive style hitter, but he recalled one titanic blast in the clutch to cinch a victory over Arlington in Spring 1950.
"The score was tied in the ninth, the bases were loaded and I was due up at the plate when Arlington brought in a new pitcher, a lefty, who threw fast but straight down the middle," Charshoodian recalled. "I saw that all of his pitches were going straight down the middle when he warmed up, so, when I got up to the plate, I looked for it and got one of the best hits I ever got. The ball bounced off the left field fence at Victory Field and the winning run came home."
At the end of the regular season, Watertown and Newton had a one-game playoff to decide the Suburban League Champion and which team would qualify for the postseason. Although Newton had previously defeated the Raiders, Watertown won the playoff, then defeated Weymouth in the opening round of the playoffs, 9-3, thanks to a five run inning sparked by a double off the bat of Charshoodian.
"That was an exciting win for the team – we played that game at Braves Field, where the Boston Braves played, Nickerson Field now," Charshoodian recalled. "We lost the next game to Somerville, 5-1, to a tough lefty. That was a Somerville team that had Ronnie Perry Sr. and won the State Championship that year."
The 1950 Watertown High baseball team was outstanding team as well. Indeed, Ben Akillian, WHS 1948, and a member of the Hall of Fame and its Board of Directors, noted how Charshoodian was part of several outstanding teams in a very special era in Raider athletics.
"Jack was no less an athlete and star than his contemporaries such as Phil Stackpole, brothers Phil and Gene Renzi, Andy Dadagian and Dick Shannon, nearly all of whom have already been inducted into our Athletic Hall of Fame," Akillian wrote in his letter supporting Charshoodian's nomination. "This rare pool of athletic talent made up the nucleus of outstanding WHS football, basketball, baseball and track teams from the late 1940s to the time of their graduation in 1950 and 1951."
Charshoodian said that he and other friends from that era – older and younger than himself – still get together in the Watertown area every few weeks to meet for lunch and reminisce.
"Sometimes it seems so long ago, it seems like a dream," said Charshoodian, who earned an engineering degree at Northeastern after a stint in the service, and lives locally with his family. "But I remember a lot, and I remember that those were good days."
Another good day for Charshoodian and the Watertown Hall of Fame is May 12, 2006, the night that Charshoodian and his 1949 football team are both formally inducted into the Hall, appropriate for this man for all sports seasons.