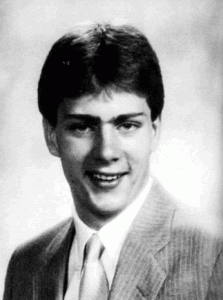 Greg Murphy is a prime example of where hard work and commitment can take you in life.
The 1986 Watertown High graduate, now living in California as a very successful money manager, learned his valuable personality traits growing up in Watertown where he became one of the most remembered Red Raider basketball players of all-time.
When Murphy sank a bucket in his senior year he became just the second player in Watertown High history to hit the 1000-point mark. Although there have been others since that time, the guard was only one of two to ever hit that mark without the benefit of a three point line.
Unfortunately during his high school playing days, the Red Raider teams weren't very successful but Murphy always gave everyone a reason to come out and watch Watertown play.
"Passion is the first word I think of when you talk about Greg Murphy," one of his two high school coaches Dave Born, who resigned after Murphy's junior year, said. "He played the game with such passion because he loved playing basketball.
"Even today it is hard to find someone who plays the game as hard as he did. I was also very impressed with the amount of time he put in on his own and the fact that he loved to play against bigger and better kids. He just relished the opportunity and the challenge to face stiffer competition so he could get better."
Murphy was a multi-year letter winner and a three-year starter for the Raiders. When he first became a starter in his sophomore year he averaged 15 points a game and despite being only a tenth grader was fifth in the entire Middlesex League in scoring. He had 25 points in a 73-68 win over Malden Catholic including ten in the fourth quarter on December 28, 1983 before following that performance off with a 24-point effort (nine points in the fourth, 7 for 7 at the free throw line) in a 58-56 win at Woburn on January 10, 1984.
Murphy, though, would only get better.
In his junior year he was leading the league in scoring averaging 23.6 points a game when he suffered an injury on February 8,1985 against Lexington. After scoring his team's first 11 points just five minutes into the game, Murphy couldn't catch his breathe and was later brought to Mount Auburn Hospital diagnosed with a collapsed lung.
At the time of the season ending injury Murphy was on his way to his first scoring title but would end up the year second in that category. However, in his senior year he would claim the league scoring title with another outstanding season averaging 22 a contest.
By the time he was through he would total 1133 career points; a remarkable figure not only because of no three point shot but also an amazing accomplishment when you consider he only played three seasons and missed eight games his junior year.
Murphy would also be named a Middlesex League All-Star his junior and senior seasons, play in the Bay State games his junior and senior seasons, and named to the Top 40 All Star game his senior year at the Five Star Basketball camp.
During his high school career Murphy also had a 40-point game in a 72-58 win at Burlington in January 1985, which also earned him the Boston Globe's High School Player of the Week honor.
"He was just a terrific offensive player," Born said. "He not only could shoot but he could handle the ball really well. While I was there he was always our number one option."
Born certainly saw a lot of great games from his star player from behind the bench but gave way to coach Craig Stockmal during Murphy's senior year when Murphy hit a shot for his 1000th career point. Back then that milestone was so rare that only one other Watertown Raider had accomplished that feat. That guy's name was fellow Watertown High Hall of Famer Billy Hatton, who graduated Watertown High in 1973.
"I grew up watching Billy play and idolizing him so this was really a thrill," Murphy said of the moment that forever linked him in Watertown sports history. "I remember it was a jump shot from the top of the key and that they stopped the game for me. It's a moment where you really can't believe you did it."
Murphy, who was also pretty good in the classroom graduating 45th in class, received full basketball scholarship offers from places like Bentley College, Boston University, and George Washington but decided to accept the one from Division Two Bridgeport.
As great players do, Murphy picked up where he left off but this time his performances led to some outstanding winning seasons for the Purple Knights. In his four years there Bridgeport went a total of 90-35. In his junior and senior years especially, Bridgeport had some very memorable seasons making the sweet 16 in Murphy's junior season before taking it one step further one year later when the Knights made the Elite Eight in the 1989-90 campaign.
"I remember going over to some of their games and watching Greg play," Born said. "He played on some really, really good teams and Greg fit right in. He was a key reason why they made it that far."
Murphy would average a dozen points a game throughout his career and would once again hit the 1000-point plateau. This time, though, he had the benefit of a three-point line. Murphy would finish up his career hitting 43% of his three's which today puts him in the top five in school history.
"I don't remember ever taking a shot that wasn't behind the three point line," Murphy joked. "But seriously I really enjoyed playing college ball. I loved high school ball too but it was a bit of a culture shock going from losing teams to winning teams that threatened to win a national championship."
In his junior and senior seasons in which the Knights threatened to go to the Division Two Final Four, Bridgeport did capture back-to-back NECC Championships. To this day Murphy's contributions to those special moments are not forgotten by those at his college alma mata.
"He was one of our best recruits," Bruce Webster, who coached the Purple Knights from 1965-1999 recently stated. "Not only from a basketball sense but from a school sense as well."
While in college Murphy was invited to play in Egypt as part of the Egyptian Pro League which was not too much of a drop from the N.B.A. Although his path would not quite take him to an occupation of playing professional ball, Murphy, who graduated with a 3.2 as a Marketing Major, then went on to St. John's where he received a Master's Degree in Business Administration.
From there Murphy found the road to wealth and success. He would become a senior vice president for the Boston Company between 1992-2000 before he become a very successful Managing Director for a 500 billion dollar management firm called the Alliance Bernstein Investment Management Institute which moved his residence to Calabasas, California.
Today he works as the Managing Director for Invesco where a large percentage of his former Alliance Bernstein employees are with him but that's not his only job. A couple of years ago Murphy also helped started a firm call Rival Sports Agency where he helps athletes manage their money.
"With these jobs I travel the world," Murphy, who actually had to conduct this interview from an airport, said. "I've been in places from London to New York but I really enjoy it. My interest in money management took off in my sophomore year in college when I had an intern at Merrill Lynch but growing up in Watertown had a very big influence on me. I remember talking and taking advice from coach Stockmal who was a very successful business man."
Now that he is living in California Murphy has countless celebrity stories. From living next to guys like Brad Garrett and Jamie Foxx to playing in a celebrity basketball league with teammates like Will Ferrell and Morris Chestnut, and getting Watertown High Hall of Fame recommendations from close friends and NBA personnel like head coaches Mark Jackson and John Kuester and former stars like Chris Mullen, Pooh Richardson, and Byron Russell; Murphy, who routinely gets invited to Hollywood Premiers, has become pretty close to a celebrity himself.
"The California life is certainly interesting," Murphy, who also helped basketball player actors shoot in the movie "Like Mike" said.
Murphy was also invited to Michael Jordan's camp where his oldest son (Ryan, 14, already rated among the top 20 Division One college recruits in the country who was also voted the best up-and-comer at the camp) regularly participates. At one point during the camp Jordan said to Murphy that he heard he was a pretty good shooter and challenged him to a shooting contest in front of the whole camp.
"I gladly accepted the challenge," Murphy said laughing. "We each took 15 shots from all over the court and the one who got the most won. I won't tell you the score but let's just say I lost."
Maybe not as good as Jordan but Murphy can still shoot as evident by his 30-40 point performances in his California recreation league. Those shooting genes have not only appeared in Ryan, but also in his other two sons, Luke, (9) and Gavin (7), who also appear headed for a basketball future.
"It's sort of disturbing when all your kids are better than you were at that age," Murphy joked. "But I'm glad they enjoy the game so much. It's really great to see the evolution in the family starting from my father on down."
It's also really good to see that success hasn't spoiled Murphy one bit. In February 2008 he donated a large sum of money to the Watertown Boys and Girls Club; the main place where Murphy learned the game of basketball that sent him on his path to success.
Murphy's contribution sponsored and re-named the Biddy Basketball Program as the Murphy-Powell League. The Powell part is named after Murphy's former high school teammate and close friend Billy Powell, who passed away from non-Hodgkin's lymphoma nearly 20 years ago.
"It was the least I could do," Murphy said. "The Boys and Girls club was the reason I was able to stay out of trouble. It kept me on the good path. Guys like Peter Centola, Jeff Corrigan, and Jim Fitzgerald were all great role models for me and I'm so grateful to all of them. Watertown is a special place with special people. That's why being inducted in the Watertown Hall of Fame is a big deal to me. As time passes you reminisce about what great players you saw and ones you played with and it's a great feeling being part of that group."
Murphy, who in the past two decades has completed six marathons including three in New York, one in LA, one in Honolulu, and one in Pittsburgh, may be tempted to give Boston a shot in the near future as he plans to move back to the East Coast in the very near future.
Along with his wife Allison and their three boys, the Murphy's plan on living in Westport Connecticut by the end of the summer bringing him a lot closer to the place that now proudly calls him a Hall of Famer.