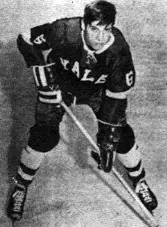 Greg Luck developed his early hockey skills on the winter-flooded Victory Field tennis courts. Streetlights or sunlight, it didn't matter; the game did. And the games played there were for that most important of athletic currency – pride.
Those long hours paid off. For soon afterwards, Greg had become co-captain and leading scorer of the Watertown High hockey squad, leading the Raiders to a dramatic Middlesex League turnaround. Under the guidance of Coach John Krol, the Watertown six put their competition on notice early on. In front of a packed North Shore arena crowd, Greg took a third period pass from Gerry Mack and netted it for the winning goal in a stunning upset over powerhouse Melrose, which had not lost in fifty-four straight regular season games going back four seasons. It was the hockey story of the season. But the Raiders didn't stop there. They ended the season with five wins and a tie in their last six games, as Greg scored a crucial goal and assisted on another to top highly-favored Stoneham – and then capped the year with yet another key score in a 3-1 win over a powerful Wakefield squad.
In the spring, Greg continued his winning ways with the track team. Greg competed and frequently won in the javelin and high jump. Indeed, in the former event, Greg's brother Jay (himself a Hall of Famer) recalls that Greg was smaller than most of his opponents; some coaches, as a result, didn't take him seriously. As one such coach started to walk across the field, far past the range he assumed someone of Greg's build could throw a javelin, Greg's throw hit him square on…unhurt, but certainly wiser the next time the coach gave the field a much wider berth!
Despite his successes in other events, Greg's specialty was the discus. There he dominated the competition, going undefeated throughout the league schedule For good measure he won the state championship in the event, and wound up fifth in the New England championships.
Most valuable player in both hockey and track, Greg was named winner of the Hoyt Thurber trophy as his class' best male athlete. Yet athletics were hardly the only arrow in his quiver. He was lead guitarist of a successful local band ("The Aftermath"); further Greg was a member of the chess team, a regular resident of the honor roll, and in the top five of his class, given his choice of the Ivy League. He decided to continue his career at Yale.
There, Greg continued to excel both on the ice and in the classroom. The second leading scorer on the freshman hockey team with thirty points (fifteen goals and fifteen assists), Greg moved up his sophomore year from penalty killer to varsity stalwart, showing great speed and puck-handling ability. By his junior year he keyed the team's first line, on one night netting a hat trick in a memorable win over Princeton. Awarded Yale's trophy honoring the squad's most improved player, he was named co-captain his senior year.
As at WHS, Greg was awarded varsity letters in hockey and track in each of his years at Yale. And again, his athletic achievements were only part of the record. With his natural talent in mathematics and science, Greg took on Yale's most difficult undergraduate course of study, Molecular Biophysics and Biochemistry. He admirably balanced athletics and academics and graduated magna cum laude from Yale in 1972 having completed not only his concentration requirements but those of the pre-medical program as well.
Greg went on to the Boston University Medical School, and from there to an internship and residency at the Maine Medical Center. He still lives in Maine, near Portland. He practices medicine; has continued his interest in music and has hardly abandoned his athletic inclinations. He skis the double black diamonds of Sugarbush with abandon, and has built a discus field and circle, a javelin field, and a professional quality volleyball court near the family cottage. He has found himself the leader on the top-ranked team in the Maine Men s Industrial League, and has played, whenever possible, in the Watertown High School alumni "legends" game, which brings together old friends and teammates, calling to mind the days and memories of Watertown hockey.
For Greg, of course, those were very nice days and memories indeed – and so they are for the Hall.