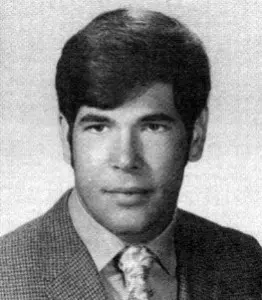 George Yankowski, Jr.
1971
Basketball, Track/Field, Football
When thoughts turn to the individuals who have played some excellent basketball at Watertown High School, a wide multitude of names well up – from Fred Parshley to Bunky Danielson, to Bill Powell to Allen Gallagher to Greg Murply, to many, many more. But when thoughts turn to the Raider basketball teams of yore, there is a single squad that comes inevitably and immediately to mind: the state Tech Tourney team of 1971.
The leader and captain of that team was George Yankowski, Jr. You might say that athletic skills lurk in the Yankowski genes. His father, George, Sr., was a major league catcher, and a key member of Watertown's first state tourney team in 1940, and his sister Lisa led the 1979-80 womens' squad deep into the state tournament as well. In between came George, Jr., a key link in the family tradition.
"He liked sports right from the beginning," his dad says, and he excelled from the start. At the West Junior High School George was awarded the Allen Memorial Trophy in recognition of his academic achievements (he was an honors student) and athletic skills (he was captain and leading scorer of the West's basketball team, as well as a mainstay of the football and baseball teams.) The next year George took over at center for the WHS varsity squad and never looked back. He was a star as well on the football field and the track. On one side of Victory Field George threw the javelin and shot-put, setting a new school record in the latter event. On the other George was a strong and flexible gridder, playing tight end, defensive tackle, and punter, and his skill matched his versatility – he was named tri-captain and Middlesex League All-Star his senior year. Boston College thought enough of his football abilities to actively recruit him for the Heights.
It was on the basketball court, though, that George and the team – for the 1970-71 squad must always be thought of as a team, a particularly cohesive and complementary group of players – earned a place in WHS history. The 1969-70 team had gone 11-9, wiping out a slate of sixteen consecutive losing seasons. But the 1970-71 team got off to a 10-1 start and finished strong with 15 wins. George was key to the Raiders' success. He was the center, a top scorer and the team's rebounding leader, a strong and serious player. Bill Hatten, arguably WHS' all-time court best, remembers that "George was the captain and the leader. He was the man we rallied behind; he kept us together as a team. In a very crucial way, he was the personality of the team. And he had a stunning work ethic – what he didn't do naturally on the court he learned to do, a very smart player who never took a bad shot. He was an intimidator on the court – and a gentleman off it."
His desire and ability were never in doubt; George was unstoppable inside on either offense or defense. In a heralded mid-season matchup against Winchester's "Big Bob" Bigelow – a future first round NBA draft pick – George dominated the Sachem star. "Watertown cast a distinct shadow upon Winchester's bright hopes," noted a local scribe, "a distinct shadow owned by captain George Yankowski." Teammate Bob Patey recalled, with tongue in cheek, that the team tried to get the ball down low to George "for many reasons. His amazing ability to score from the paint, for one – and for another, he couldn't see beyond the foul line!" That single focus, you might say, went a long way. It was off to the Tech Tourney.
The history of the tournament is well established in local yore. In the first round, Watertown won its first tourney game ever. The gritty effort set the tone for the tournament as the Raiders battled back from a seven-point deficit with four minutes to go to defeat Needham by a single point. George contributed 25 points and an immense 21 rebounds to the effort. He added 14 points and 11 boards to the next game against defending state champ Hyde Park, a thriller which went into overtime, to be won by the renowned bank shot of Charlie Banacos. And in the semis once-beaten Framingham South proved no match for ebullient teamwork and balanced scoring. "The Cinderella of Cinderellas," one paper called the Raiders as they moved into the final game against unbeaten Lexington. The town exploded in support; there was magic in the air.
In the end, Lexington – battling to a halftime lead of just four points – would prevail. But, the Glo6e wrote, while
"Watertown High's beautiful dreamers had been finished . . . [the] entire town seemed to rise and applaud . . ." It was a special moment, one that the town (and the team) have never forgotten. As the Press noted, that "a new spirit and pride [have] become a part of Watertown's present and future."
George was named a consensus league All-Star and received the team's "outstanding player" award. Coach John Myers said that "our success would have been inconceivable without George. His quiet leadership, his determination and hustle, infused the team. He was always focused, always mature. And whenever we needed it on the court, we could count on George to step up with the big play."
Graduating in 1971, he went on to Westfield State, where he continued to excel, a member of the first state college team invited to an ECAC tournament. Moving to Bentley College, he graduated with highest honors with a degree in accounting, and earned his CPA certificate in 1978. Currently, he resides in Austin, Texas, and works as treasurer and Director of Investor Relations for the Southern Union Company. We welcome George back to Watertown this year – as a fully credentialed member of the Hall's Yankowski wing.