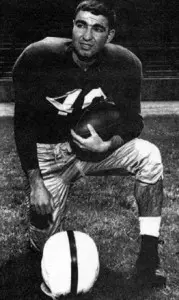 "Koko" Gorgodian was the friend your parents liked more than they liked you. By all accounts, he was considerate and kind, treating everyone with regard and respect. Indeed, recalls teammate Bob Kaprielian, he was "what everyone would want for a brother, a friend, a son. The whole team knew they had something special in Koko."
They certainly had a very special athlete. Koko was a three-sport star for three Hall of Fame coaches: Bob Gleason, George Yankowski, and Joe Zeno. He was captain of the track team and state champion in the 300 meters for the early edition of Gleason's championship dynasty of harriers. He was captain of the baseball team for Yankowski's perennial contenders. And he was, perhaps most notably, star running back for the two-time Class B state champion football Zeno-men, serving as co-captain (with John Marini) for the 1953 champs. His signature play out of the backfield was a double reverse. As a junior, he scored the only touchdown on an outside run as the Red Raiders beat Class A Newton, 7-0. His senior year he scored all eighteen points as Watertown shut down Class A Revere. Not surprisingly, he was the Hoyt Thurber Award winner as best athlete in the class of 1954, as well as its vice president.
After a year at Wilbraham Academy, Koko went on to Brown University, where he played football and baseball in the Ivy League, at the time, of course, a powerhouse conference. All looked bright for his future – until in 1960, at age 24, he was killed in an auto accident. The sports world – indeed, the world of Watertown as a whole – was suddenly a poorer, and darker, place. This year the Hall of Fame hopes to rekindle at least some of the light Koko left behind through his overdue induction. He is missed.