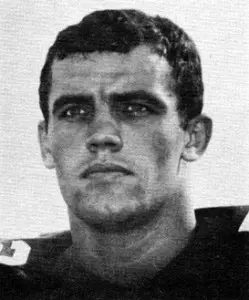 Nick Papas, a forty-year observer of the Watertown High sports scene, summed up Gary Brackett this way: "He's a leader, first and foremost; that was my immediate impression, and it's only been reinforced over the years. An athlete with a lot of ability and exceptional work habits – I've followed his career with pleasure."
Gary was a product of Watertown's early Pop Warner program; probably, as one of ten children, he had good use for his football skills! He graduated from Watertown High in 1966 following a stellar year in which he was All-Scholastic in football and the captain of the basketball team, plus president of his senior class. He played offensive tackle and fullback with relish – as he would note later, ` `I like to hit people: ' It was a trait that served him well, as he went to Holy Cross on a full scholarship.
There he continued his involvement both in athletics and in the neighborhood. Among other activities he was a member of the Purple Key Society, and received the college's Presidential Service Award for his outstanding contributions to campus and community life. All in all, as the Worcester Telegram noted, "a doer, not a talker."
He did on the football field as well. He made the varsity team as a freshman and, by his junior year, had become one of the top tackles in New England. Gary was so well thought of that he was drafted by the Miami Dolphins despite a team-wide outbreak of hepatitis at Holy Cross, which led to the cancellation of eight games his senior season. Gary graduated with honors in 1970 and was named to the Holy Cross "All-Decade" football team.
Going on to Case Western Reserve University, Gary graduated with a law degree in 1973. He came back to Watertown and worked in the county court system before becoming an assistant to the Watertown legal department in 1974. When the town made the decision to hire a full-time counsel, Gary was the unanimous choice and, in 1978, he became Watertown's first Town Attorney. Ten years later he became City Solicitor for the city of Worcester, the job he still holds.
While at Holy Cross, Gary had doubled as an outstanding rugby player, and he continued to pursue this interest after college. He captained a team of Eastern all-stars that played an international tournament in South Africa; and he was later named to the United States Rugby Team, the first national team to represent the U.S. internationally since 1924. He played against the Australian and French national teams and, in 1977, was on the U.S. team that toured England and played the English national team. He was also President of the Boston Rugby Club, while won the 1976 New England championship.
Bob Norton, a Watertown High star in his own right, was the line coach at Holy Cross during Gary's years there, and his words from a 1970 interview prophetically echo Gary's career: "Gary is not only an outstanding football player, but also a fine man, a real leader. He has tremendous desire and wants to excel – and most importantly, he's willing to do the work: '
That turned out to be true no matter what path Gary pursued. He's been a great athlete, and an outstanding contributor to his community; he's been a good lawyer and a good guy, all at the same time. Now that takes something special!