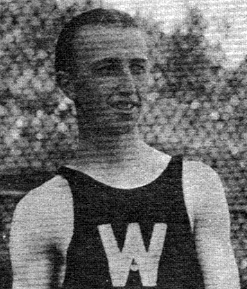 Anyone fortunate enough to spend a little time with Fred Milmore must come away with two overriding impressions. First is an appreciation for Fred's marvelous sense of humor. A local columnist, upon Fred's appointment to the Watertown Fire Department nearly sixty years ago, noted that he was "always willing to lend a hand whenever the occasion arose . . . he's sincere and conscientious . . . and I challenge any of his colleagues in the department to pace Fred's ability as a humorist!" Another, some years later, ran into him at the beach and related that "a day in Fred's company is worth more for a laugh than listening to a dozen of our radio comedians."
Fred's second defining trait is his love for Watertown and his sense of its history. Indeed, Fred is a part of that history. He was born in 1909 on Summer Street, as was his father before him; his playground was the current Saltonstall Park, his boyhood swimming hole the beach along the clean Charles River near the Perkins School for the Blind. He remembers the corner of Westminster and Waverley Avenues as a cow pasture, where the Lindsay Milk Company had 30 cows. His was the first class to enter the new Watertown High School building.
Fred had early showed an aptitude for speed and versatility. In the mid-1920s Watertown used to sponsor a "Playground Track Meet" at the end of each summer (complete with pageant and prizes), and Fred showed his stuff by coming away with high jump, dash, and relay ribbons. But interscholastic competitors were to fare no better once at Watertown High Fred spent a lot of time running past people. "The boy is a great miler" lauded one newspaper; but he was more than that. Fred entered events ranging from the 100-yard dash to the high jump, with the 440- and 880-yard runs thrown in for good measure. In 1927 he "performed brilliantly" in meets against Cambridge, Melrose, Rindge Tech, and Belmont (toppling "our ancient and dauntless rival!" crowed the school paper)
In fact it would be hard to find a meet in which he didn't perform brilliantly, especially in 1928. That year, as captain of the track squad, he racked up points like a machine – a fast machine. In April he won the gold "Minuteman Medal" for the mile at a triangular meet in Concord and handing Concord High's star miler his first loss in two years. (For good measure, Fred beat him again later that season.) With the exception of one me et, he gathered points in every event he ever entered, and, in the mile, won all but three races over the course of his high school career A capstone win was the mile at Brown University's interscholastic track meet, with all of the New England states and a few beyond represented in the field. Fred set the WHS record in the mile, with a time of 4:38.4, not to mention an unofficial time at a Belmont meet that clocked in at 4:32 (this some twenty-five years before the four-minute mile barrier was broken.) And in the 1928 schoolboy state championship meet at Harvard Stadium, Fred was runner-up in the 880-yard run, losing the state title by a chest ('/5 of a second), but nonetheless putting up the first points ever scored by a Watertown athlete in that event. Not surprising, he won the Potter Trophy as one of his class' outstanding athletes.
After graduation the workforce called. Fred joined the town of Watertown's engineering department, working as a surveyor while studying civil engineering by night at Northeastern. He also nurtured his artistic side, taking classes at the Wagner School of Art, and, as part of his interest in heraldry, completing an MIT program in genealogy.
Fred continued to shine in local track and field events. His wife, Alice, whom he married in 1941 recalls going to Victory Field to see him run. So did a lot of people. With 15,000 in attendance at the Independence Day meet put on by Legion Post 99 at Victory Field, he won the mile (in a personal best 4:37) along with a victory in the 880-yard run and a second-place finish in the relay. For good measure he won the Legion mile again the next year. In the Scottish Games held in Caledonian Grove (West Roxbury), he finished 2nd in a handicapped mile, nearly overtaking someone given a twenty-yard advantage over him. Fred also used his speed in another venue: discouraged from playing football in high school due to his track coach's fears of injuries, he now began to play left end with the Limerick Club under legendary coach 'Jungle" Joe Mallsy,
In the late 1930s, Fred joined the Watertown Fire Department, and became a fixture on the force for thirty-seven years. His humor and warm-heartedness – and his simple kindness – served him well, as ever. Captain Bob Ford recalls that his father had worked with Fred in the department, and that when he himself joined the force in 1959 Fred took him under his wing. "Soon I realized this wasn't special treatment. Fred did that with all of us new firefighters. He served under four chiefs, and I can't remember a person who didn't like him:' Fred drove Ladder 2 from the East End station, an antique truck even then; but he knew the streets so well he could navigate it anywhere. And he kept up his athletic endeavors, starring as pitcher for the firefighter softball squad, bowling competitively.
Fred's influence on the town, then, is a long-standing and lasting one. It's also one that's very visually apparent. One look at Town Hall makes that clear; Fred designed the Watertown flag and the colors of the town seal, and painted the seal that hangs in the Town Council Chambers. In fact, Fred has put his hand to art of all kinds, from oil painting to sign painting, from police cars to certificates, awards, and heraldic plaques. He has been involved in local arts and crafts organizations of all kinds, serving as president of the Watertown Arts Association among other leadership roles. Elaine Grey, chair of the Zoning Board of Appeals and longtime member of the WAA, notes that "Fred is a gifted artist – in the field of heraldry, a renowned one. He brought humor and a great deal of talent to our group."
It is no surprise, then, that the Town Council proclaimed March 11, 1995, as "Frederick J. Milmore Day," or that a tribute to Fred found standing room only at the Hibernian Hall. It is little exaggeration to say that "everyone was there" – for everyone felt it was appropriate to honor a man whose love for the town and whose contributions to it have brought so much distinction to the community. A story tallying the best athletes in Watertown's history would have to note "Freddie Milmore, one of the greatest high school milers:' But a story tallying Watertown's best citizens would have to include that name as well. Fred brings in one package good humor; community spirit; and athletic virtuosity. The Hall is proud that he brought it to Watertown.