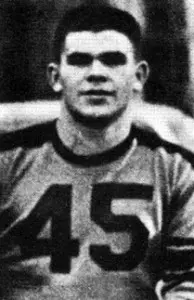 Football, Basketball, Baseball
"Shut your eyes and visualize your teammates," Tom Oates told the crowd during his keynote address at the 1993 Hall of Fame awards ceremony. "You'll always remember them. As for me, I remember my favorite football player: Frank Cousineau. . ."
That's not so surprising: Frank was memorable. And together, Frank and Tim – both inductees this year were a formidable pair of ends on some great Watertown lines. In a key game during the 1946 season, Frank scored both touchdowns in a 14-13 win over a tough Woburn team, leaving the rival's newspaper shaking its ink stained head: "Cousineau, Watertown's grand end, was about as clever a receiver as Woburn has seen all year. He not only was a good receiver but he knew how to run with the ball once he got his glue-fingers on to it. [His] run for the winning touchdown was a beautiful piece of work. . ."
His senior year, Frank was chosen to the All-Suburban Team and was also a first team All-Scholastic on multiple All-Star squads, including those chosen by the Boston Post and the Sport-Light; he led the Raiders in scoring, winning the prestigious Hoyt Thurber trophy; he was co-captain of the football team; vice-president of his class; and a basketball player of note as well. "Frank was a man among boys during our playing days," teammate Aram Najarian remembered recently.
After graduating from Watertown High in 1947, Frank went on to the Manlius School. There, he continued to distinguish himself in football, basketball, and even baseball – in one memorable game he stole home with the bases loaded to give Manlius a 1-0 victory over the Syracuse University freshmen. For his efforts he won the school's All-around Athlete Award in 1948.
Frank's next stop was Boston College, and again he shone. His freshman year local scribes dubbed him "the most outstanding of the Eagle yearlings."
At B.C., Frank was field captain, played end, and kicked. How he could kick – "Big, booming kicks, like a professional," marveled long-time B.C. coach Emerson Dickey, with whom Frank played. And how he could play – "a dominant player," said Dickey, part of what B.U. legend Buff Donelli called the best line in the East his senior year. He seemed to be in on every tackle, on every attempt to pass, in every hole. B'nai B'rith, which annually picked the top senior performer at each local college, had no problem choosing at B.C.: it was Frank.
Frank didn't attend that awards dinner, though. He was serving as park commissioner in Watertown, and Frank knew that duty called. So he showed his typical loyalty to his first team – his town – and he shoveled snow!
Frank has never stopped digging the town out of trouble. He was a teacher at Watertown High for many years, a role model and friend to many young students and athletes. He coached football, basketball, and soft" ball, voted Outstanding Coach by his peers. You wouldn't expect less from the son of Ed Cousineau, perhaps; but as Frank joins his father in Watertown's sports pantheon, close your eyes and visualize again. Ed might just be saying "Good job, son."