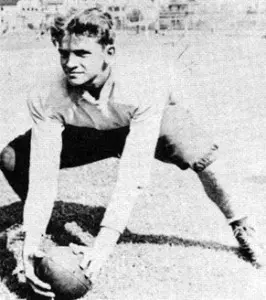 Basketball, Baseball, Fball, Track/F.
How "Lucky" Zissis got his nickname we're not sure – perhaps he'll explain at the Hall induction banquet. But the Hall is certain that at least as regards his athletic career, to call Manny Zissis "lucky" is a misnomer. Manny was, quite frankly, a great athlete – it s Watertown s good fortune, not his, that we celebrate in his induction.
Manny grew up playing basketball and football, the latter in a league organized by the New Deal's WPA during the 1930s. It was not a league loaded with frills – "we played in our street clothes," Manny remembers drily. Still, it served, and when Manny entered Watertown High, he played not only basketball and football but baseball and track as well. He excelled across the board, eventually becoming basketball and football captain, and placed second in the state meet in the shot-put. And he received the Hoyt Thurber Trophy as his class' outstanding athlete.
His junior year, Manny was a star among stars on the 1940 Tech Tournament team that also featured George Yankowski, Vic Palladino, Bill Kearns, and Bob Johnson. Facing a powerhouse Somerville team Manny was "sensational," the Boston Globe reported, "matching the entire Somerville gang, point for point, for three periods." He was a member of the second All-Tournament Team (the Globe was so taken with his performance that it actually apologized for not naming him to the first squad), having scored seventeen of WHS' thirty-four points and nearly engineering a huge upset.
Manny was also the Raiders' starting center on the gridiron, and has some grand memories of Victory Field – including scoring a touchdown against Belmont on Thanksgiving Day on a trick play. Lucky recalls, "In this case the entire offensive line was shifted, making the center an eligible receiver . . . Bill Boyce started left and flipped me, as center, a pass into the end zone." The Watertown fans were exuberant – so much so that Manny's brother, seated in temporary end zone seats installed to accommodate the overflow crowd, ran out onto the field to embrace the unlikely scorer! "What an embarrassment!" Manny remembers.
His senior year both Manny and Vic Palladino were given tryouts with Boston College, requiring that they scrimmage against the varsity squad that had just won the Sugar Bowl. The pair must have impressed, as both received scholarship s. The became art of what the New York Sun in 1942 called, with only a hint of hyperbole, ` `one of the best teams of all time" after a 56-6 shellacking of the Fordham Rams. ` `It would be difficult to imagine greater power, more speed, and more all-around ability than the Eagles exhibited yesterday . . ." the Sun noted. A photo of Manny about to run over a Fordham lineman provided the exclamation point to the story – and an Orange Bowl trip in January 1943 provided the final touches to a great season.
After his sophomore year, Manny enlisted in the Army and served in England, France, and Germany in the Signal Corps. He returned to B.C. after the war and continued his football career, only to see his competitive career ended by a knee injury. However, he finished his degree (in chemistry) and added a master's of science degree as well. In 1949, he began work at the National Institutes of Health as a research chemist in carbohydrates. He held this position for many years with a great deal of distinction, racking up more than thirty published articles in a wide variety of scientific journals – and it is probably fair to say that Manny is the only Hall of Famer to have become a member of the prestigious national committee on Carbohydrate Nomenclature! He also stayed involved in athletics, playing some golf of a sort he notes and coaching his daughter on several youth basketball and softball teams.
Manny is now retired and lives in Maryland with his wife, Jean of almost forty years. A closing quote from his old friend and teammate Vic Palladino seems appropriate. "Lucky," he said, "is without a doubt a gentleman of the highest order, who possessed great athletic ability – a true symbol of all that is best about the scholar-athlete." The Hall can only agree.