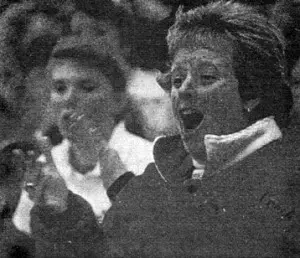 A Hall of Fame's work is usually one of history, of reviving memories of distant glories. When someone is inducted it is normally with an eye towards the retrospective, hindsight giving perspective to past performance.
However, in the case of Coach Eileen Donahue – still very active at Watertown High School – these considerations demand to be waived. Such is her performance and her program that they speak directly to the present. They demand recognition even as they continue to build.
Consider this: an overall record through 1996 of 212 wins, 11 losses, and 22 ties. That's a winning percentage of over 95 percent and that's not a typo. Coach Donahue's teams won Division II State Championships in 1986, 1988, 1989, 1990, 1992, and 1994. They were state runners-up in 1987, 1993 and 1996. They won league titles in 1987, 1988, 1989, 1992, 1993, 1994, 1995, and 1996. Indeed, they have not lost a game in the tough Middlesex League since 1992. In the late 1980s, they didn't lose a game, period: the team notched a national record of 77 straight unbeaten games. Normally, in tracing a great coach's career, one highlights the one or sometimes two champion teams she had the good fortune to be associated with. That becomes rather difficult when there are six such teams, and counting – and it becomes clear, too, that something more than good fortune is involved.
As former Superintendent of Schools Daniel 0'Connor puts it, "Can Eileen Donahue coach? That's like asking if Barbra Streisand can carry a tune. Her field hockey program is a model, and her work ethic – that's W-0-R-K – is just phenomenal."
Even in her youngest days of athletic involvement Eileen remembers paying attention to what coaches were doing, how they handled themselves and their players. Her father Jack was an outstanding coach in his own right, and she helped him work in the elementary and middle schools. Eileen graduated from Belmont High School in 1977, a three-sport star and, not surprisingly, field hockey captain.
She went on to Northeastern where, ironically, her class and coop schedule prevented her from playing field hockey. She turned her skills instead to volleyball and lacrosse and, in the latter sport, soon became a scholarship athlete. Upon graduation with a degree in physical education and health in 1982 (she would later add a masters' in education), she came to the Watertown schools to teach, serving along the way as JV coach in field hockey, basketball and softball. Her coaching break – and Watertown's – came in 1986, when she was named head coach of the field hockey team. In that first season, despite construction at Victory Field that sent the teams home games to Belmont, she posted a record of 171-5 and took her squad all the way to her first state championship. Something wonderful had begun.
The wins, and the titles, kept coming. So did the honors. Eileen was named the Boston Globe All-Scholastic Coach of the Year in 1988 and 1994~ the Middlesex League Coach of the Year in 1988, 1989, and 1994 (in other years it must have been given to any coach whose team managed to play the Raiders close!)~ The Outstanding Coach of the National Federation of Interscholastic Coaches in 1991 and of the Mass. Association of Physical Education, Health, Recreation and Dance in 1992. She won the Boston Four Outstanding Service Award in Field Hockey in 1993, and was inducted into the New Agendal Northeast Women's Sports Hall of Fame in 1995. She coaches elite field hockey camps at Bentley and at Harvard, with Northeastern Coach Cheryl Murtagh and Harvard Coach Sue Caples. And since 1990 she has coached in the United States Field Hockey Future's Program -the last five years as head coach – which brings together the best of the best from around the country. Her under-18 Massachusetts team, with a number of Watertown players involved won that tourney's gold medal in 1995.
In Watertown, of course, Eileen remains a teacher in the elementary and middle schools and has built an impressive feeder program (including a field hockey camp at the Boys and Girls Club for girls ages 8-14) of girls who come to the high school ready and eager to join her teams. As she notes, "I'm a teacher first. The most important thing is trying. I send that message at the elementary level too: if you try I'm always there for you."
She has been there, indeed, for a decade of young athletes – and that has meant a lot to the town of Watertown itself. As onetime WHS star and now assistant coach Kelly Khozozian puts it, "Eileen has positively, and deliberately, been a driving force in the lives of many of this town's young women. Some have gone on to play field hockey in college and most, on to productive lives. She is one of the unique people whose association with our youth transcends athletics." Jane Rogers a three-year starter on the verge on breaking predecessor Kerry Lessard's state record for goals highlights "the time and effort she puts into the program. How well she relates to the players. The way she listens – and also hears. She knows when to be tough but pushes us in a very positive way."
Eileen herself notes that "it's not about yelling, it's about caring. I try to get a little more out of each athlete; there's always a little bit more to give. I'll let the player know when it's wrong, but I'll also be the first to tell you when you're doing it right:' Denise Nugent, who assisted Eileen for ten years and is now head coach in Waltham, elaborates: "Coach Donahue is always informed and knows how to inspire and develop her athletes. She's the hardest of workers. She's relentless: if there's one thing that needs to be fixed, she'll find a way to fix it. She makes it happen."
She has made it happen, as noted, for the school, for the town, for the athletes she coaches and mentors. But she is notably reluctant to single out particular memories, teams, or players. "There are just too many;' she says, "I don't want to single anyone out as special, because they're all special." Still even a short list of notable players coming through her program over the last ten years would have to tout Eileen's three high school All-Americans, Cathy Guden, Kerry Lessard, and Jane Rogers. Other names spring to mind as well – Jane's older sister Bethany Penny Fairbairn, Megan Reilly Lauren Khozozian Kim Boyd, Joanna Rudalevige Lori Piscatelli, Kathy Morrison, and Cathy Mastroianni. But this is hardly exhaustive. As Eileen notes, "I am so proud of the teams that had less talent because they just had to give more. You win as a team, and lose as a team."
If you tally the qualities that make a great coach you end up with a checklist describing Eileen Donahue. And she shows no signs of slowing down. She attends as many field hockey clinics as she can, always seeking to learn more about an ever-evolving game. After all, as she says, "each year is a new beginning. You can't rest on your laurels or rely on the past program."
The Hall agrees. But when that past program is as stunning as Eileen Donahue's, we do well to take one night in the springtime and give it its due.