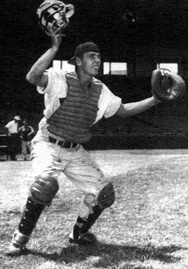 Baseball, Football, Hockey
These days, when many young athletes can't imagine a game without a league – complete with schedules, chalked lines, coaches, and referees – it can be hard to remember the time, not so long ago, when the neighborhood pick-up game was the athletic arena of choice. On the sandlots, playgrounds, and blacktop courts of many a city and town, new generations of aspiring Williams and DiMaggios, Cousys and Russells, Howes and Orrs, honed their skills. Ted Kelley had those dreams, too. And he came closer than most to realizing them in all their glory.
"I grew up during a great period," Ted remembers now. "there was plenty to occupy our time. And we had great role models – like 'Skee' Khederian, Benny Akillian, and 'Babe' Simourian, who was my next door neighbor." Following those greats' lead, Ted was on the playground in every season, playing basketball, football, hockey, and baseball until it was too dark to see. His junior high basketball team was one beneficiary, winning the Eastern Massachusetts state championship in Boston Garden.
At Watertown High, he was on the football, hockey, and baseball teams. He still had that work ethic. And he was already a teacher. Hall of Famer Bob Norton recalls his own sandlot days: "I was eleven or twelve, playing on the East Junior field. In those days, Ted was a park instructor in the summer and I would shag fly balls for him all day long, in return for a cold root beer from George-the-Deli. Ted was a terrific hitter. I grew up watching him play for the high school and town teams and I wanted to be just like him."
Ted was center for the great WHS football squads of the early 1950s under new coach Victor Palladino, helping to anchor the 1952 and 1953 Class B state championship squads along with other stars such as Hall of Famer Len Hill and this year's inductee Bob Kaprielian. His senior year he was co-captain with Walter McKertich, and was an all-Suburban League selection and honorable mention as state all-scholastic.
When winter came, Ted merely transferred his greatness to another venue. Always an excellent skater Ted played in the spring and fall Mayflower League. When only a ninth grader (thus, at the time, a middle-schooler), he was asked by Coach Carl Clem to suit up with the high school hockey team. Lettering for four years, he played at both forward and defenseman. Here, too, his senior year he was a Bay State League All-Star and played in an all-star game against a team from Montreal.
Spring meant baseball, both at Watertown High and in American Legion ball. Another Hall of Fame coach, George Yankowski, served as Ted's mentor here, and while Ted started in the outfield, he soon found his niche behind the plate (and at it). It was an impressive niche, too: co-captain, all-scholastic, all-league. In one all-star outing he caught future Red Sox star Bill Monbouquette. A two-time member of the Hearst All-Star team, Ted started at catcher in both 1954 and 1955 over Joe Bellino of Winchester who would go on to become an All-American football star. "Teddy was a born catcher," recalls Yankowski. "He always came to play, with the right attitude and the right skills."
Graduating from Watertown High in 1955, Ted continued his athletic prowess the next year in a post-graduate program at Bridgeton Academy. There he was captain of three sports-baseball, hockey, and football -while playing against local collegiate freshman teams, and for an all-New England team which played a series of games against Canadian hockey squads.
The next stop was Amherst, where Ted matriculated at the University of Massachusetts. He continued to be a man of all seasons, starring especially in baseball and hockey. He captained the baseball squad his senior year leading the Yankee Conference in 1958 with a .340 batting average. Not surprisingly he was all-conference that season. He also captained the hockey team, named most valuable player and to the ECAC all-star roster. All the while he played semi-pro hockey and baseball as well – the former all the way to 1970 – playing in the Watertown Intercity League, the Boston Park League, and the Lynn New England League.
Growing up, Ted had great teachers and role models – from his sister Rosemary to the Cousineau family to a string of great coaches, like Lefty Burgess, Jim Ryan, Joe Dwyer Joe Zeno, and Yankowski. Uncle Ed Cousineau, himself a Hall of Famer encouraged Ted to be a catcher and provided early guidance in baseball. And teachers like Miss Conner at the East Junior and Mr. Donnellen at WHS provided not only guidance but inspiration – "It was primarily because of those two teachers that I became a history teacher." Ted notes now.
Ted's career as a teacher and as a coach has been remarkable. He's taught in Maine, Massachusetts, Michigan and Texas. His Hockey squads at Tabor Academy won the New England Prep School championship in 1988 and 1991, and Ted was named Coach of the Year by the Boston Globe in each of those years. In 1978 – and in an astounding run, from 1980 through 1986 -Ted's teams at the Cranbrook School in Bloomfield Hills, Michigan, were state high school champs. There, Ted was basically coach of the decade, named Coach of the Year by the Detroit News from 197786.A11 this leaves aside Ted's work with any number of tournament and youth leagues-from the East Coast Junior Hockey League in Dallas to the Junior Bruins in Massachusetts.
Ted, then, has given back to the sport he loves, and served the next generation as he was served by his own mentors. The Hall is proud to honor that dedication, and to welcome him home, where it all began.