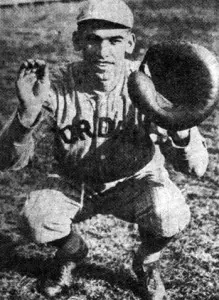 Football, Basketball, Hockey
Edward "Dee" Cousineau was born in Watertown in 1898 and was a member of the Watertown High School Class of 1919. While at Watertown High he was a star in three sports, football, basketball, and baseball. He was all-scholastic in football in 1918 and was named to the All Mystic Valley basketball and baseball teams in 1919. A star catcher, he was the captain of the baseball team and went on to Fordham University where he lettered in baseball and football in 1920, 1921, and 1922.
In June 1922 he signed a contract with the New York Giants baseball club, who would go on to win the World Series that fall. His contract is interesting to read. It paid him $400 per month and included clauses requiring loyalty, good sportsmanship, and clean living. One can only presume that these clauses have been dropped from modern contracts!
After the 1922 season Ed became a local hero as he came home in a trade to the Boston Braves. He played for the Braves in parts of the 1923, 1924, and 1925 seasons. In limited action he batted .500 overall as a major leaguer, not bad for a man legally blind in his left eye. In 1926 he became a manager in the Braves' minor league system, and from 1926-1932 had stints at farm teams in Memphis, Tennessee, in Mobile, Alabama, and in Hattiesburg, Mississippi.
Ed retired from baseball in 1932 and entered the insurance business in Watertown. He died in 1951, leaving his wife, Harriet, and his four children. His plaque will be accepted by his son Frank, a great Watertown athlete in his own right and captain of the 1946 WHS football team.