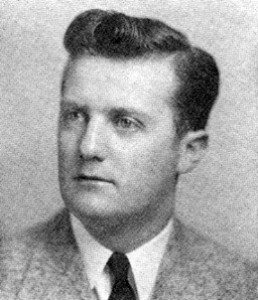 Hockey, Fball, Baseball, Track/F.
Usually, as the old ballpark cry goes, you can't tell the players without a program. But in Watertown between 1942 and 1945, you could be pretty sure about at least one of them. Whether it was the gridiron or the diamond, the rink or the track, Don Costello was not only on the roster but leading the way to victory. In all, Don played five sports: football, hockey, track and field, basketball, and baseball. He racked up an astonishing eleven varsity letters in three years – five his senior year alone. It's a feat of versatility, of effort, and of plain athletic ability that may never be surpassed.
Don, and his talented twin brother Phil (later the beloved Mr. C of Camp Pequossette), grew up in the Depression and then the war years. Times were tight; the twins' dad had passed away when they were in elementary school, and both boys worked hard to help the family make ends meet. (Indeed, Don missed two full sports seasons at WHS because of part-time jobs at local businesses.)
"A day in the life" might find Don nearly anywhere sports were played. Deemed ` `a natural footballer" by Coach Joe Murphy and ` `a fine triple threat possibility" by the Boston Herald, he quarterbacked several powerhouse squads and played a mean defensive game as well – in the Cambridge Latin game he intercepted four passes, setting up two touchdowns. He co-captained the team his senior year, earning league All-Star mention. Moving indoors, Don led the hockey team in scoring and was, again, co-captain his senior year as well as a second-team Bay State League All-Star; in a memorable game against rival Belmont he scored a hat trick in a 5-2 victory. He was, raved one reporter, "aces . . . the sparkplug of Watertown's ice sextet." And the same could be said on the basketball court, where Don was a first-team guard.
Come spring Don was equally ubiquitous. Sometimes schedules conflicted, and a little cross-sport teamwork was necessary: Don remembers one game in which he left a Victory Field baseball game in the 5th inning to participate in a home track meet. It's easy to see why both coaches wanted him. Don's track feats included consistent victories in the 100- and 200-yard dash events as well as the high and broad jumps. Against Dedham his senior year Don's "one-man gang" set a new school record in the 100-yard dash and won the 220 and the broad jump for good measure. On the diamond he hit .373 and put those track skills to use, leading the team in stolen bases. In one game Watertown knocked off league champion Newton North when Don singled, stole second and third, and was squeezed home by brother Phil. As Phil recalls, "you name the sport and Don excelled." Indeed, a newspaper referred to another WHS athlete playing in multiple sports as "doing a Don Costello act."
Don graduated in 1945, the obvious choice for the coveted Hoyt Thurber Trophy as the year's best athlete. He was also vice-president of his class and president of the popular Joe 0'Malley Golf Club. That spring Don (along with Phil) was invited to participate in the Red Sox tryout at Fenway Park; the twins made the cut from 400+ players down to 24, and offered a minor league spot in the Sox organization. But it was still wartime, and as ever the Costellos put their team first: in July they joined the U.S. Marines.
After the war, while attending Manter Hall Prep and Newton Junior College, Don centered the championship Marvin Foundry team in the Boston Amateur Hockey League. He then attended the University of Massachusetts and was the starting fullback (and on defense, linebacker) for the undefeated freshman team. Don's performance so excelled that the papers were full of talk of the ` `next Red Grange." He had a great freshman baseball season too (batting .350 as catcher).
But in the first two minutes of his first football game as a sophomore, Don took a nasty blindside hit and suffered a lacerated kidney. Doctors warned he might never play sports again; but refusing to accept that verdict, Don underwent a long and uncomfortable recuperation with character and perseverance. Warmly supported by the Watertown community – and helped out by a benefit hockey game arranged by Hall of Famer Dick Bradley – Don returned to the UMass baseball team his second year and was team MVP, hitting .354 and leading the squad in stolen bases and RBIs. He was a star as well for St. Johnsbury in the Vermont Northern League the summer of 1949, and captained the UMass squad in 1950. Don also continued to excel on the track; he was part of a relay squad in 1949 that set a new school record.
After graduating from UMass with honors and as a Class President in 1951, Don married Joan Kilcoyne in 1954. He also began teaching and coaching in the Watertown school system that year, serving as an assistant coach to Vic Palladino and, in 1958, coaching St. Patrick's championship baseball squad. Phil notes that Don was his students' "favorite mentor" owing to his genuine interest in and loyalty to others. Former student Ann Sardellitti Guden concurs, recalling that "We all loved him and worked hard for him. He was always caring, aware of brittle teen feelings; he related well to us because he was always up-front and honest."
Don left his guidance counselor duties in Watertown in 1965 to become the first admissions director at the new UMass-Boston. In its first year UMB enrolled more Watertown High grads than any school in the state; they joined Don as charter member of a great urban university. Don stayed there until 1989, when he became director of the Elementary School Commission of the New England Association of Schools and Colleges.
Whatever his role, Don's students and colleagues become immediately part of his team; and as daughter Robin insightfully points out, "one thing that makes my father so vibrant is his team spirit. He enjoys talking about the team, the group, others doing well . . ." In whatever role, ` `he has never stopped coaching." The Hall is grateful for that.