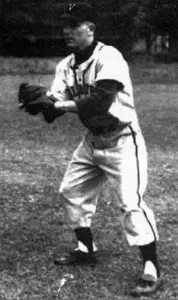 Dick Shannon might not have been "the greatest hitter who ever lived." That honorific will always reside a ways down Brookline Avenue in the Fenway. But as his teammate on the storied 1950 baseball team, first baseman Frank Fitzpatrick, put it, Dick was certainly one of the greatest hitters Watertown High ever had. He notes, "Dick had the batting eye and ethic of a Pete Rose or Wade Boggs. He was somehow always able to put his bat on the ball and find a safe place for it to land."
Dick was hardly a shabby athlete in other venues. He lettered in three sports at Watertown High, as a defensive back for some tough Raider gridiron squads and a first line starter on the ice as well. But it is certainly his baseball prowess that earns him a ticket to the Hall of Fame this year, joining his late brothers Art and Bill.
The numbers speak for themselves. Dick was a three-year starter at second base, hitting over .400 his junior year and .528 the next. In those three seasons, teammates recall, he struck out a grand total of B once. Not surprisingly, he was all-everything, a Suburban League All-Star both junior and senior years, and a consensus All-Scholastic first team pick by the Boston papers his senior year. That year, 1950, marked one of WHS's greatest years on the diamond. The team, sparked by such stars as Dick, Phil Renzi, Phil Stackpole, and Joe Barry, went 16-3 overall, winning the Suburban League championship and going deep into the state playoffs. Despite breaking his ankle a week before the season ended, Dick's lofty average and 22 RBI in just 8 league games helped propel the Raiders to the top of the league standings.
Not surprisingly, college scouts had their eyes on Victory Field, and Dick earned a four-year baseball scholarship to Villanova (an especially impressive achievement since freshmen were not then allowed to play varsity sports.) There he led the team in hitting with a .445 average in 1952 and a .435 average in 1953. In the eastern regional NCAA baseball tourney, Dick was named most valuable player after racking up eleven hits in sixteen at-bats for a .688 mark. After some summers playing in the Down East League in Maine (hitting .337 for the Augusta Millionaires the summer after his freshman year and .341 the next summer in Presque Isle), the St. Louis Cardinals signed him in 1953. After graduating from Villanova, he reported to the Lynchburg Cardinals and then moved to the Dothan Cardinals of the Alabama/Florida League. Helped by Dick's .331 batting eye, Dothan won their league pennant in 1954.
A year later, Dick's baseball career was cut short by a rotator cuff injury in his throwing arm. He was playing Army baseball at the time, having been drafted in the fall of 1954 and sent to Fort Dix and then the Presidio in San Francisco. He became the Presidio team's player/manager, not a bad honor on a squad featuring a roster of professional players, and let the team in hitting in 1955 with a .367 average.
Discharged in 1956, Dick moved to the business world, where he has more than equaled his success on the diamond. Today he is president of Nationwide Marketing Group, a wholesaling firm he founded in 1971. But we'd bet his batting eye remains as keen as ever. After all, he is a Hall of Famer.