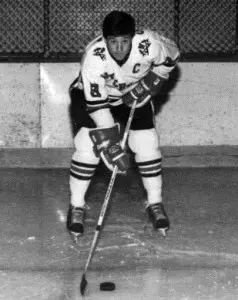 Whether on the ice or on the gridiron Dean Sacca simply made his team champions.
During his high school playing days, the 1986 graduate led the Red Raider ice men to back to back Middlesex League titles during the 1983 and 1984 seasons while doing the same for the Raider football team in 1984 making him an easy choice for Watertown Hall of Fame induction in 2010.
Those who played with Sacca during those championship seasons will be the first to tell you that without him those titles don't exist.
"I'm not sure where to start when you talk about how great an athlete Dean was," fellow 1986 Raider graduate and Hall of Famer Mark Khozozian said of his hockey and football teammate. "In football he was outstanding and he was unbelievable in hockey. What most people don't know is that he was also very good in baseball."
Sacca, who played halfback and defensive back in football and right wing in hockey pretty much made his presence felt in every game he played. By the time he finished his high school career, he had earned enough honors in both sports to fill a large room.
Among his football honors were being named captain of the Raiders, winning the Jay Lenaghan football scholarship, being named to the Harry Agannis All-star squad, being named a Boston Herald All-Scholastic, being named a Division One League All-star, being named Boston Herald Division One player of the week, being named a Middlesex League All-star, and being named to the Middlesex League all league team.
In hockey there were equally as many honors such as being named team captain, winning the unsung hero award, being named Boston Herald Division Player of the Week, and being named to the Middlesex League All Star and All League squads.
"All those great honors still don't tell you how great an athlete he was," Khozozian added. "He had all the intangibles you want in an athlete. He was relentless. I mean I was the quarterback of the team yet he was the leader. He would have to remind me of the formations. He had such a toughness on the football field and he brought it every game and every play. He had that same kind of competitiveness and tenacity on the ice as well. He was a unique athlete.
"Believe me I played with the guy and I know how great he was. In football he was not only a great runner but he was an even better pass catcher and on the ice he knew where to be at all times. He was always one step ahead of everyone else. Simply put his sports IQ was off the charts."
On the football field there were many games that Sacca was looked upon as the best player wearing a uniform. Especially during his senior year when he was amazingly finished third in scoring in all of Division One with 82 points. In the season opener that year he gave a good indication of how good his last season as a Red Raider was going to be when he scored three touchdowns and totaled 22 points against Walpole in a 44-30 shootout loss.
"I would say that game probably sticks out as the best in my career," Sacca, who would go on to have a four touchdown game against Burlington later that season to claim Division One player of the week honors, said. "To be able to do that well against Walpole, which was ranked among the top ten teams in the state was special for me."
The Walpole game opened the season in style for Sacca but the Red Raider senior especially wanted to close out the season and his career in style in the Thanksgiving match-up against rival Belmont. As expected Sacca didn't disappoint head coach John Barbati or his teammates as he ran for over 100 yards and scored a touchdown in a 14-0 win.
"Coming into that game we were 4-5 on the season and my teams were 1-1 against Belmont," Sacca recalled. "So it was great to finish the season at .500 and leave Watertown High with a winning record over Belmont. That is one game I will never forget. It was at Victory Field and it was one of those crazy snowy/rainy days but I felt great afterward being able to cap off my career that way."
His senior season on the ice was just as memorable as he also earned Division One player of the week honors for totaling seven goals and four assists. It was one game in particular, however that headlined his week's action. That occurred in a game against Winchester where the right-winger totaled five goals in just two periods of play.
Although his senior seasons produced his most prolific games, Sacca had plenty of headline games throughout his high school career in both sports to help lead his teams to Middlesex League titles. It was though, the hockey team in his junior season (1984-85 season, which was the last season coached by Watertown Hall of Famer Dick Umile), that Sacca likes to look back on most.
"We went 16-2 that season and at one point we were ranked number one in the state," Sacca said. "We eventually got eliminated in a five period over-time game that had to be continued the following day. But from top to bottom that team was stacked. I believe that was the greatest team the school has ever produced. I would put that team up against any other team in Watertown history."
After high school Sacca attended U-Mass Boston where he played football for three seasons but Sacca certainly didn't want to stop being involved in athletics after he left college. He loved everything about high school sports and soon turned his attention to coaching. It didn't take long for the Watertown High Athletic Department to realize he would be a great fit for their school and was named head hockey coach in 1994 where he stayed until 1999.
"I love coaching," Sacca said. "It gives you a chance to give back to kids the lessons you learned. You also develop such special relationships that you really can't put into words. That is what it is all about. I really find it rewarding when kids you have coached in the past come back to see you how you are doing."
Sacca brought out the best in his kids during his head coaching tenure but unfortunately the squads he coached couldn't mirror any of the successful teams he played on.
"I think that's because things changed," Sacca said. "When I was a kid at the Brown Elementary School all we did was play sports. When it was light out I remember running out after school, playing street hockey until 5 P.M., going home to eat, and then going back out again after supper. You just don't see that anymore. I mean I like technology but I believe it somehow stopped kids from participating more in sports. I remember the first time I was introduced to football. My mother drove me to a football field and said 'here you are now on the Pop Warner team.' She knew how good sports is for kids."
Not long after he left his coaching duties at Watertown High, he got a call from an old teammate and friend who was hired as the head football coach of Belmont High in 2005.
"You know something when I was named head coach the first call I made was to Dean," current Marauder head football coach and former Watertown High football teammate Kevin Gildea said. "I knew he would be a great offensive coordinator and I couldn't have been more right. He's produced so many winners (including quarterback Vinnie Cortina who led the state in touchdown passes in his senior season of 2009). He has simply done wonders for our program. Calling him turned out to be the best call I ever made."
Gildea graduated the same year as Sacca and played on a couple of teams with the newly inducted Hall of Famer so he saw first hand what kind of athlete, captain, and leader his teammate was.
"He was so good and he was tough," Gildea, who blocked for Sacca on the offensive line said. "I remember especially in the huddles where Dean was just dead serious. He didn't like to mess around in the huddles at all and we fed off his intensity. Coach Barbati liked to call him a "mudder" which meant he that he could run in all situations. He would say that Dean was born to run with a football.
"But I really believe as great as he was as an athlete he is even a better coach. The knowledge and toughness he brings to our program is invaluable."
Gildea, Sacca, and Belmont's other assistant coach Kevin Carison all grew up in Watertown and have been friends since childhood. There's even a team picture with all three of them hung up in the Belmont locker room when they were just kids playing on the same Watertown Pop Warner squad.
"I really believe there's a special bond of friendship that develops from playing football together," Gildea said. "I feel fortunate to have a friend like Dean. When he was at my wedding and the videographer came to him he said that someday we were going to be coaching together in the Middlesex League and he turned out to be right.
"As lucky as I am to have him on my coaching staff, I'm much more luckier to call him my friend. He's just a terrific person. I couldn't be more happier that he is now a member of the Hall of Fame."
Athletics at Watertown High not only created special friendships but Sacca believes it leads to other successes in life. Today Sacca currently has a job at UPS that he has held on to for 18 years. He is currently a business manager and enjoys everything about his occupation.
"I have a pretty good career and I really believe the discipline, hard work, and preparation I learned from playing sports at Watertown High led to this. That's why I am very grateful and humbled to be in the Watertown Hall of Fame."
That's also why on Thanksgiving it is tough to know that his job as offensive coordinator is to do what it takes to defeat the Raiders.
"Believe me I root for Watertown to go 9-1 every year," Sacca said. "A part of me will always bleed Red."
Questions with Dean Sacca
What Watertown coach/teacher influenced you the most?
My football coach John Barbati.
Who was your favorite athlete growing up?
Dallas Cowboy running back Tony Dorsett.
What was your favorite Watertown non-sports memory?
The Blizzard of '78.
What was the last book you read?
Final Season by Bill Parcells.
What is your all-time favorite movie? L
"Scarface".
What is your all-time favorite song?
"Hell's Bell's" by AC/DC. F
What is your favorite vacation spot?
South Florida.
What is your favorite food?
Pizza
What person would you most liked to have met?
Jim Brown.