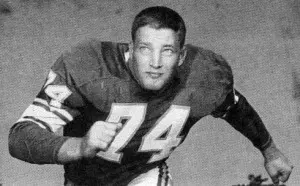 Fball, Baseball, Hockey, Track/F.
When Dave 0'Brien was informed of his induction into the WHS Hall of Fame, his first reaction was a quick question: "why?" This was not just a reflection of Dave's characteristic modesty regarding his athletic achievements; instead, it must be admitted that while Dave was a sterling high school athlete, upon his graduation in 1959 he was not a Hall of Fame athlete. But the Hall in return can only say that it could not fail to recognize an athlete who came through Watertown High, went on to stardom at Boston College, and to a distinguished career in the National Football League. The Hall is proud, then, to reclaim Dave as one of our own.
But this is hardly a stretch. Dave's Watertown lineage is a splendid one. Starting out in Watertown Little League competition, he excelled at baseball (and basketball) at the West Junior High School. And under a stellar array of Hall of Fame coaches – George Yankowski, Bob Dupuis, Vic Palladino, and Bob Gleason – Dave expanded his athletic horizons at Watertown High. He played baseball, hockey, and outdoor track. His senior year, indeed, he was the state shot-put champion in Class B. "All my coaches were terrific role models," Dave recalls. "They instilled the ethics and focus that I carry with me today and to which I credit much of my success."
Dave did not go out for football until his senior year. Working out with him in the offseason, teammate (and Hall member) Bob Cappadona recalls that it was Dave who set the pace, that in his quiet manner he was determined to excel. By his off-field demeanor you would never guess it, but when the opening gun went off Dave was the most ferocious competitor on the field. That was true when we were at Watertown High it was just as true when we were in the pros."
Several local colleges offered Dave football scholarships upon graduation, but he chose Boston College. He continued his track career there. But it was on the gridiron that he made his mark. As ever, it took awhile. But by his junior year his hustle and work ethic had grabbed the attention of his coaches and peers. "Here you've got a non-scholarship kid, and you figure he'd be out there for the exercise, " Coach Ernie Hefferle said. "But Davey worked so hard that he's been a regular . . . I couldn't help but give him the job. He's one of those players that comes along every so often who don't realize how well they really can play football."
After a shining performance early in the 1961 season Hefferle called Dave "our best defensive tackle . . . we're going to see a lot more of him." We did. By November, a feature Globe article noted Dave's move "from swing man to sting man," touting his agility, instincts and above all his hard work on and off the field. Following a thrilling 14-10 upset over Iowa State newspaper accounts called him the "mainstay of the forward wall" and a defensive standout who had stopped one of the nation's best running games dead in its tracks. B the end of the season Hefferle ranked Dave as "one of the best" he had ever been associated with; the Herald's Arthur Sampson agreed, tabbing Dave as an "exceptionally strong" standout at tackle.
A knee injury in the preseason hampered the start of Dave's senior year in 1962; BC, after a quick start, seemed to stall as Syracuse and Navy (behind QB Roger Staubach) quashed the Eagle momentum. But as Dave returned to the starting ranks against Houston – playing both ways and sparking a 14-0 shutout – BC would not lose another game. In the season finale against traditional rival Holy Cross, Boston College 48-12 the press noted that the Crusaders simply couldn't handle 0'Brien and the BC line, either on offense or defense. The Eagles 8-2, touted as the best Heights squad in twenty years. And Dave was one of the best of the lot, an All-New England pick, invited to the East-West All Star Crusade Bowl.
Dave had attracted professional interest from a variety of quarters, ranging from the AFL's Patriots and Bills to the NFL Lions, Cowboys, and Packers. Dave was drafted by the hometown Patriots in the AFL draft, and by Minnesota in the NFL draft one of only eight New England players tabbed by the `senior circuit.' He signed with the Vikings, and after a strong camp made the final squad, over stiff competition.
Dave stayed in the NFL for six seasons, excelling for the Vikings, New York Giants, and St. Louis Cardinals before a leg injury ended his playing days. After a stint as a scout for the Cardinals he took up the skills he had learned as a math major at BC, joining the Bank of New England and rising to senior vice president there over the course of a twenty-plus year career. In 1992 he became president of the Sentry Management Holding Corporation, a commercial real estate company in Boston. Dave earned his MBA from Northeastern in 1972 and a graduate banking degree from Rutgers in 1978.
As important to Dave is the role he has played in a variety of charitable endeavors over the ears. A charter member of the National Football League Alumni group "Caring for Kids" and that organization's New England chapter preside t, Dave has worked to raise money for children's charities, including the Mass. Adoption Resource Exchange, whose board he chaired for a decade.
Dave was selected for the B.C. Hall of Fame in 1985, a fitting tribute to his meteoric rise to stardom at the Heights. And it is equally fitting that his achievements be recounted in his hometown, that the late bloomer who put on the pads as a WHS senior be honored for his athleticism; for his perseverance and work ethic; for his contributions to the community and to children everywhere.