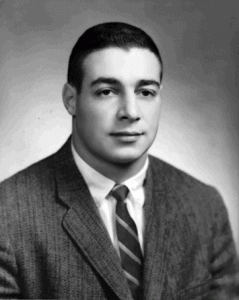 This fall will mark the 60th anniversary of the Red Raiders first ever state championship football team and that celebration may not have been able to take place if it weren't for the efforts of guard Chuck Papalia.
The legendary Watertown head coach at the time Joe Zeno, who was a guard himself in the National Football League and roommates with NFL Hall of Fame quarterback Sammy Baugh, once said of Papalia that he is one of the best guards in the state.
Zeno went to say that he has been watching guards a long time and that Papalia was great on both offense and defense.
"I always thought he was one of the best lineman around," his teammate at the time, Joe Giglio, said of Papalia. "But when coach Zeno said that about him you knew it was true. Coach Zeno, who in my opinion was the best coach Watertown ever had, really taught him that position well and Chuck was so smart he really learned how to play the position as good as anyone."
Not only was Papalia a force on the offensive and defensive lines but when the Raiders were searching for someone to kick extra points, Papalia somehow earned that starting assignment as well. In fact Papalia was only 14-years old when he started kicking extra points as a Watertown High sophomore.
"Somehow that just came natural to him," Giglio recalled. "He was really very good at kicking as well."
One year later as a junior Papalia would then take over as a starting lineman to go along with his kicking skills, which would eventually help his team to a Class B state title during his senior campaign in the fall of 1952. That particular squad was so loaded with talent, that despite playing many games against Class A teams, they still found themselves undefeated heading into their Thanksgiving game with Belmont.
"That team was so deep," Papalia, who among his many football awards was named an All-Scholastic and a Suburban League All-Star, said. "My goodness we had five or six good running backs and two good quarterbacks on offense alone."
One of those quarterbacks was starter and fellow Hall of Famer John "Babe" Simourian. The signal caller was very grateful to have Papalia as one of the guys protecting him.
"He was not only strong but he was quick and tenacious," Simourian, who would also play with Papalia at Harvard University, recalled. "I know coach Zeno loved him because Chuck reminded him so much of himself. They were both built the same way (Papalia was 5'8″ 185 in high school) and they were both strong, quick, and very smart. Chuck was just a terrific football player."
On Thanksgiving Day of 1952 the Red Raiders made more than sure that their Belmont rivals would not spoil their undefeated season. What happened on that day was something the remaining survivors of that squad can't get enough of reminiscing about. To this day it remains the most lop-sided score in the 90-year history of the rivalry.
"We won 44-0," Papalia said. "In those days there were over 10,000 fans at the Watertown-Belmont game and that year we went to Belmont and really let them have it. We had eight different players score (seven different players scored touchdowns). When is the last time you can say you saw that?"
The only disappointment to that season came in December of that year when the Raiders were asked to play Class A Brookline for the right to go to the Orange Bowl and play a football game there. However, Brookline was able to finally stop the Red Raiders in a 19-6 final. It did not, though, prevent Watertown High from easily being named the Class B state champions.
"That Brookline game was the only loss we had," Papalia said. "Only one team from the Northeast was going to be selected to play in the Orange Bowl but they wanted an undefeated team and that was the only game that held us back."
Papalia, who grew up right next to the Coolidge Playground, also played hockey and baseball as a child and took those talents with him to Watertown High as well. His favorite sport was hockey and he learned the game when they flooded the tennis courts at the playground. For three years Papalia was a solid defenseman for the Red Raiders.
"We were both defensemen on the hockey team," Simourian said. "I was paired with him most of the time and he was an exceptional hockey player. He made me look good because he was a much better hockey player than I was."
Papalia also came off the bench for the Watertown High baseball team. Admittedly, Papalia said baseball wasn't his best sport.
"That may be true," Giglio, who was also Papalia's baseball teammate, said. "But I tell you he always gave everything he had and everyone respected that. No matter the sport it was a real pleasure playing with him and I was always proud to be his teammate."
Another person proud to be his teammate was Watertown Hall of Fame Chairman Bob Kaprielian. Playing alongside Papalia as a left tackle, Kaprielian got a first hand look at Papalia's talent and what he meant to the program.
"It was a privilege to play alongside such a great athlete," Kaprielian said. "But it was a more of a privilege to be teammates with such a great person."
Papalia, who graduated Watertown High in 1953, also felt privileged to play in the era in which he was able to don Watertown High gear. Whether it was football, baseball, or hockey Papalia loved wearing a Red Raider uniform and he was also crazy about the guys who mentored him.
"Every coach I had is a Hall of Famer," Papalia said. "Guys like Joe Zeno, George Yankowski, Ernie Mannino, Joe Murphy, and Bob DuPuis were all terrific coaches and I was so lucky and blessed to play for them. It was such a great era with such great athletes and coaches. Heck when I was playing football even the doctor (Louis Mastrangelo) and the water boy (Ritchie Green) went on to become Hall of Famers."
Papalia was also a very bright student. At Watertown High he was a member of the National Honor Society during his junior and senior years, the class vice-president his sophomore and junior years, and the student council treasurer his junior year. All of which helped him earn acceptance at Harvard University.
During his days at Harvard Papalia continued to play the sports he loved at a high level. As young as he was, being only a 17-year-old freshman, he cracked the Crimson starting lineups in both hockey and football. Not only was he good enough to make the football team at such a young age but he would also go on to be named to two All-East teams.
"Those were nice honors but my favorite memory in college football was beating Yale," Papalia said. " The captain of the Yale team was a guy named Paul Lynch and he was one of the members of that 1952 Brookline High team that beat us and cost us a chance to play in the Orange Bowl. So beating them was extra special for me."
Papalia would go on to earn a Master's degree in education while taking jobs as a coach for the Harvard freshmen football team and coming back to Watertown to teach at the West Junior High. He would later become the Financial Staff Supervisor with the New England Telephone and Telegraph Company where he worked for 26 years before retiring.
Today he still remains active in sports. He still plays golf (once had a hole in one) and announces football games for Merrimack College and in his hometown of North Andover for their high school squad.
Papalia, who has five children and 11 grandchildren, will also be celebrating his 49th wedding anniversary with his wife Susan on the same day as his Hall of Fame induction.
"It's hard to believe it's been over 60 years since I first attended Watertown High," Papalia said. "I'm so proud to say the first uniform I ever wore was a Watertown uniform. I've waited a long time for this and I'm so happy to be inducted with so many greats."