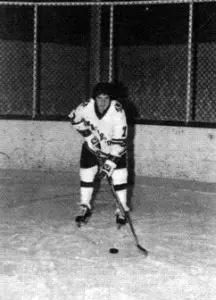 Chris grew up on the ice, nearly literally- he laced up his first pair of skates at age four. By the time he turned twelve he had made his first all-star team with the Boston Junior Whalers; he captained the West Junior High School to an undefeated season and was named team MVP.
Chris reached Watertown High at a fortuitous time. With Hall of Fame Coach Dick Umile on the scene, the Raiders had begun a long-term turnaround in which Youth Hockey players such as Chris, Jack Hauswirth, Joe Maclnnis, and Shawn Real would play a huge part: a photo of Chris' 1 976 AA Squirt squad is a virtual team photo of the mid-'80s WHS tournament teams.
The 1981-82 squad reached the .500 mark, with Chris named as a Middlesex League All-Star. But the next year, the goal was not .500 but postseason play. And with discipline and hard work, the team worked its way up the Middlesex League standings. Chris, as captain, anchored the defense and added a timely offensive spark; he earned the respect of teammates and opponents both with his dedicated play, by his untiring example of intensity. Chris was unafraid to go into the corners, to hit and be hit. Umile noted, "He's the kind of kid you would want to go to war with." And the battles of the 1982-83 campaign began to go Watertown's way. Jumping off to a 3-0 start, the Raiders ran off a six-game unbeaten streak mid-season en route to a 12-4-2 regular season. It was on to the tournament.
This was Watertown's first tourney team since the fabled 1948 squad; and as assistant coach Artie Venezia noted, "Chris was the leader. We looked to him to show us how to win." Despite heavy competition, WHS did just that. First, the Raiders took on favored Northeast Conference champ Gloucester – and handily dispatched them, 5-2. Chris, despite a week spent battling a 103 fever added two assists to the cause. Next came Catholic Conference champ and perennial power St. John's. The Raiders came in as heavy underdogs, but played their hearts out. "We do not intend to just show up," Umile declared; and indeed, his squad took a 3-1 second period lead behind goals by Chris,
, Fred Colman, and Frank Cousineau. Goalie Real turned away an astounding 44 shots. And though St. John's took a 5-3 lead in the third holding on for a 6-4 win, the WHS upstarts had proved something to the league and to themselves. Chris, as team MVP and league all-star, had indeed showed the Raiders how to win.
He would continue to do so in the collegiate ranks. Chris captained the Salem State squad his junior and senior seasons, named the team's "most dedicated" player as well as its most valuable both years (just the fifth player in Salem State's annals to repeat as MVP). His junior year he was named to the AI I-American Team for Division II. He captured the New England Hockey Writers' Sports Award twice; was twice an ECAC East All-Star; and in 1991 was honored as the Massachusetts state college athletic conference player of the year. The Vikings won a number of prestigious tournament titles – including the venerable Codfish tourney (where Chris was named MVP) – and averaged seven goals a game Chris' senior year to finish 21-6-1. An accomplishment of which Chris is just as proud, though, is that he matched his prowess on the ice in the classroom, graduating on the Dean's List and as the recipient of Salem State's Student-Athlete Award for Academics.
Chris currently lives in Watertown with his wife and two daughters; he has coached youth hockey and served as assistant coach at WHS and at Salem State, and as freshman coach at Malden Catholic. He is quick to give credit to his former coaches for their role in his personal and athletic development, and to his family for their support and inspiration. Far be it from the Hall to disagree. But tonight, Chris himself has earned the spotlight.