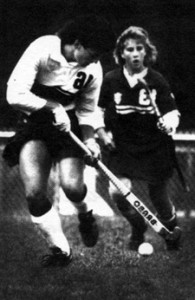 F.Hockey, Softball, Basketball
To recite Cathy Guden Bailey's athletic resume is to succumb to a sort of glorious monotony: the same words keep recurring. Words like "varsity starter." "Captain." "All-Star" "MVP" "All Scholastic." "All-American." And the thread that connects them all: "Champion." Indeed, no matter the field of play, no matter the level of competition, Cathy Guden was a champion – not just in her own abilities, but in the way she embodied yet another word: "team."
Cathy grew up the only daughter in a family of five. Her parents, Joe and Ann Guden, dedicated the time and energy necessary to make her scholastic athletic career possible; Joe was a St. Patrick's and Holy Cross standout, and Ann notes that Cathy could catch a ball at the age of eleven months. But it was perhaps her brothers who first pushed her in that direction. "My brothers spurred me into athletics," she remarks. "It started off that they would need an extra player and they would bring out the little sister beat her up." Soon the little sister joined Little League and local) basketball teams.
By the time she reached Watertown High, Cathy was already a force to be reckoned with. Her freshman year she was a varsity starter on the 'ack softball, basketball, and field hockey teams. That first field hockey team won the 1986 state championship, and Cathy played no small part in that. She scored two goals in a 5-0 blitzing of Burlington that clinched a playoff spot, and tallied the game-winning score in the 2-0 shutout of Manchester that won the state semifinals.
This was just the beginning. In Cathy's four years at WHS, the field hockey squad won three state championships. She led the Middlesex League and in scoring for three of those years, and in each was honored as a league all-star league MVF a consensus all-scholastic; her senior season, in the 1989, the Boston Globe named her the State's All-Scholastic Player of the Year She was a gold medalist at that year's Bay State Games and a ack silver medalist in the 1988 Junior Olympics.
Other seasons produced similar results. Cathy was a four-year starter and Middlesex League All-Star for the Raider basketball and softball squads; her Middlesex League co-MVP season in 1990 led the softball team to its first-ever state tourney bid. After her graduation, Cath's number 16 was lofted to the gymnasium rafters, making her one of only a handful of WHS athletes to be so honored. Frank Cousineau, Cathy's 3rry softball coach at WHS and a Hall of Famer in his own right, comments that "not only was she the best female athlete ever at Watertown High, she 3ob may have been *the* best athlete ever at Watertown High." He might just be right.
Cathy graduated from Watertown High in 1990, with academic honors. Her success at WHS laid the groundwork for success on the hockey fields of Providence College. Her freshman year she picked right up where she had left off, earning the first of four consecutive Big East conference all-star honors. Her sophomore season she led the Lady Friars in scoring and was named a second-team All American. Her junior and senior years lick she was a first-team All American and, in 1993, the Big East Player of the Year and the Rhode Island Association for Intercollegiate Athletics' ole female Athlete of the Year. Cathy capped her Providence career with the Paul Connolly Sportsmanship Award in 1994.
All these individual honors tend to obscure one crucial part of Cathy's career, which is that she has always been the consummate team player. WHS field hockey coach Eileen Donahue would hardly downplay Cathy's own athleticism and skills. But she needed a new word to describe her key trait: "one of Cathy's strengths," said Coach Donahue, "is her overall team-ness on the field." Joanna Rudalevige, a tri-captain on the field hockey squad with Cathy in 1989, recalls her as an "unbelievable talent in anything sports-related" but also as a "great leader because she was so trusting of her teammates." Not surprisingly perhaps, Cathy's favorite professional athlete during her high school days was Boston Bruin playmaker Raymond Bourque, another great team player. And perhaps it should be noted that her favorite academic subject was – what else? – Chemistry.
With her induction into the WHS Athletic Hall of Fame Cathy Guden Bailey adds a new chapter to her family's connection and enthusiasm for athletics. It's ironic perhaps, that she cannot spotlight any female athlete role model from her childhood. "There wasn't a lot of exposure to female athletes at the time," she comments. "But fortunately that's something that's changing."
It's changing indeed – in part because of the particular brand of athletic greatness that Cathy herself represents. The Hall is proud to welcome her to its ranks.