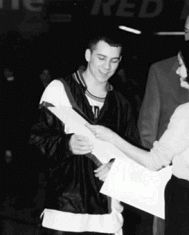 Sometimes when things aren't going so well for his team, Watertown head boys basketball coach Steve Harrington will look upwards.
But then he will see the retired number 23 hanging from the Raiders gymnasium and crack a smile. That's because that number was worn by one of his all-time favorite players whose memories he created will last a lifetime.
"Bobby Murgo was simply one of the best who has ever come here," Harrington said of the 2000 Raider graduate about to be inducted into the Watertown Hall of Fame. "We have made the tournament every year and have had 15 winning seasons since he first came here and that is not a coincidence. Upon his arrival he changed the culture of the program."
Even as a freshman Murgo made an immediate impact but by the time he finished playing high school hoops he put up numbers and received honors that most players wouldn't dare dream of. In his high school basketball career Murgo was a three time first team Middlesex League All-Star, was named both a Boston Herald and Boston Globe All-Scholastic, was named the Waltham News Tribune MVP, was named the Middlesex League's MVP, scored a career 1454 points, and broke a state record by knocking down 97 three pointers in one season alone.
"Obviously he was a great shooter but that was only part of the reason why he was so great," Harrington said. "He was a great ball-handler, a great team player and extremely tough. He was so much fun to watch. Players like Bobby Murgo don't come around too often."
Harrington can flash back to so many games where Murgo was brilliant but there is one in particular which stands out. It happened in that magical senior year of 1999-2000 in Chelsea when the Raiders were in a nip and tuck battle with Lynn Tech (who had previously beaten Watertown in the regular season) in the Division Three North semi-final.
With the game on the line in the waning moments Murgo simply carried his team on his back. In a span of three minutes Murgo racked up 12 points hitting clutch shot after clutch shot enabling the Watertown High basketball team to reach the Division Three North Final; a place where, at the time, the program was not used to reaching.
"He was one of those players that had the whole town in a buzz," Harrington said. "People still talk about him today."
Like a lot of kids growing up in Watertown, Murgo was involved in sports at a young age and soon discovered that basketball was his first love. He enjoyed playing so much that he would spend nearly all his free time at the local Boys and Girls Club working on his game.
"A lot of times I would be there about 12 to 13 hours a day just shooting free throws or playing two on two basketball," Murgo said. "They would have to throw me out at night."
All that practice certainly paid off through his high school career and so did being introduced to Harrington, whom he met years before he became a Red Raider.
"The thing about coach Harrington is that he is very smart," Murgo said. "He knew it would be beneficial for the players in middle school to learn the high school system and he spent a lot of time with the younger kids. That helped me a great deal by the time I got to high school."
In his freshman year Murgo would come off the bench as the team's sixth man but by the time his sophomore year rolled around he was the starting point guard. He would not only occupy that spot for the next three years but he would become the measuring stick for future point guards for years to come.
"Hands down the greatest player ever at Watertown High," Kaz Keuchkarian, his teammate who played alongside Murgo as part of the 1999-2000 starting backcourt, said. "I could talk about how great he was for days. When he got us to the Division Three North Final he took us to uncharted territory because we had never made it that far before. He was not only the purest shooter I ever saw but he was also a big-time competitor and a terrific leader. He got the guys going and got them focused and ready to play for all our games.
"As far as his talent goes he was just unbelievable. He could do it all. I mean he was only 5′ 7″ but he was still the second leading rebounder on our team. He never liked to show off either. Not many people realized that he could dunk but I saw him dunk several times in practice. He just wouldn't do it in a game."
Murgo had countless memorable performances in high school as evident by his averaging over 21 points a game in his junior year and nearly 25 his senior year. However, in one game in particular at Winchester during his junior campaign, Murgo went off to the tune of a career high 43 point.
"It's funny because it was one of those game where nothing was going right for us," Murgo recalled. "Coach Harrington pulled me aside and said we really need you to score. So I started driving to the hole a lot and taking outside shots when I could. I ended up with nine 3-pointers but we still ended up losing the game."
As great a performance as that and so many others were, Murgo's favorite moment on a high school basketball court came his senior year when for just ten seconds at the end of a late season game he was on the same court as his freshmen twin brothers Nick and Tony.
"That moment was so special to me," Murgo said. "They were also such a big part of my basketball career. We played basketball together every single day even though we fought a lot when we played."
Another member of the family Murgo can't thank enough is his mother Lesley, who was there every step of the way watching her oldest son develop into one of Watertown High's greats.
"She was there practically every single basketball game I played since I was a kid," Murgo said. "Even in college she went to a ton of my games. She was always my best supporter and I will always be forever grateful to her."
Murgo also recalls seeing how proud his mother looked when the number 23 was raised to the Kelly Gym rafters at halftime during a game in 2007.
"I was absolutely thrilled to have my number retired," Murgo said. "But I realize so many people were responsible for allowing me to have that great moment and now be elected to the Watertown Hall of Fame. At the top of the list is my family and coach Harrington but there are so many thank-yours I don't know where to begin."
Murgo is obviously most known for being a basketball legend around Watertown but in truth he was also an extremely talented football player. Playing a limited role as a freshman running back and a sophomore defensive back, Murgo became the starting quarterback during his junior and senior seasons under Paul "Buster" McGovern. With Murgo as the starting signal caller the Raiders would not suffer a losing season in either 1998 or 1999 as Murgo showed off his ability to throw and run for tough yards.
"I know everyone knows how great a basketball player he was but he was also a phenomenal quarterback," 2000 Watertown High graduate Shiraz Banosian, who was teammates with Murgo on both Red Raider basketball and football teams, said. "He was such a natural.
"Let's put this way. I went to Assumption College and played football and in high school Bobby was better than all of the quarterbacks I saw in college. He had a great arm and he was a very smart player. I remember one time in Wakefield he called an audible and took a quarterback sneak 80 yards for a touchdown. Wakefield was one of the better teams in the league and he almost helped us pull off a big upset."
To no one's surprise in his last game Murgo went out a winner. With the game on the line in the fourth quarter facing sloppy field conditions Murgo completed a go-ahead touchdown pass allowing the Raiders to celebrate Thanksgiving with a 12-6 win over rival Belmont.
"It was a great thrill winning that game," Murgo said. "I'll never forget it or the person who caught the ball. It was a guy named Bialil Sabrah."
McGovern and the rest of the Raider coaching staff thought Murgo was talented enough to pursue football in college but Murgo knew that basketball was the only sport he wanted to focus on after graduation.
After one year at Bridgeton Prep School in Maine, Murgo became one of the very few Watertown High players to receive a full-scholarship when he was offered a full-boat to Merrimack. As a member of the Warriors, Murgo simply continued where he left off in high school. By the time his career was over he would total over 1500 career points while dishing off over 600 career assists. He would end up being one of just three Merrimack guards to ever have over 1500 points and 500 assists in their careers.
"I really enjoyed playing there," Murgo said. "It didn't start out so good when I tore an ACL my freshmen year but I got red-shirted and was able to play four years there. We had some good teams and some good seasons. One year we made it to the third round of the conference championship but never quite made it to the NCAA's."
Just like at Watertown High, when Murgo left Merrimack College the team knew the void would be impossible to replace. They realized that finding Bobby Murgo's is comparable to finding a needle in a haystack.
"He was a great point guard," Merrimack basketball coach Bert Hammel said. "But what I really loved about him was his toughness. He was a real warrior. He just would never back down. I have been coaching 32 years and I would say he is easily among the top five mentally tough players I have ever had. I was especially impressed with the way he dealt with his year at Bridgeton Prep and his freshman year when he tore his ACL."
Hammel loves to recall the first time he saw Murgo play. He will always be grateful for the day he accidentally stumbled on to one of his most memorable players.
"One day a few of us went to see an exhibition game to scout some of the Charlestown High players," Hammel said. "But I just kept noticing on the other team there was this one very talented and very tough kid. I fell in love with him right away and knew I wanted him to play at Merrimack. He not only exceeded all expectations as a player but also as a human being. You know he could have gone to a better basketball college program after other colleges saw him play at Bridgeton but he was true to his word. He told us he was committed to Merrimack College and for that he will always have our greatest admiration and respect."
In the college classroom Murgo majored in sociology and business, which helped in starting his own business in 2008 when he and a former rival joined forces to open a restaurant. Murgo first met business partner Jeff Abellard at the Rising Star Basketball Camp at Waltham High School where the two furiously competed against one another. Abellard said at the time that they were such sports rivals that he really didn't like Murgo. Today all of that has changed, as now they are co-owners of the New Landing Restaurant on Moody Street in Waltham.
"I got to know Jeff at the basketball camp but I remember playing against him before that," Murgo said. "Each year we used to scrimmage Waltham High. We're like brothers now. It's really nice owning your own business and being able to come and go as you please but you also are constantly on call."
Another major life change will occur in October 2012 when Murgo will be getting married. With his busy lifestyle, however, Murgo still finds time to play the game he loves as a member of the Waverly Oaks Athletic Club.
"He is the best player down there," Banosian, who also currently plays basketball at the athletic club, said. "He is still so much fun to watch."