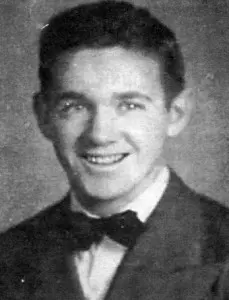 From his linebacker position, Bob O'Neil focused intently on the Newton quarterback, watching for the slightest indication that Newton might try its special lateral pass that had worked wonders in prior games in Fall 1943.
But, not this time. When the ball was snapped, O'Neil made his read, and ran toward the target of the lateral as it was thrown. O'Neil plucked the football out of the air then raced downfield for a 40-yard interception return to propel Watertown to a 19-0 victory.
It was a great play by a great high school football player, who starred at both linebacker and center for an outstanding 7-2 Raiders team and would receive all scholastic honors after the season from several newspapers, including the Boston Herald and the Boston Post.
Yet, the initial newspaper story on O'Neil's interception return missed a very important detail about the play – a teammate of O'Neil got the credit.
Given how rare it is for newspapers to make errors, O'Neil laughed recently as he told the story behind the story.
"I got up early the day after the Newton game. I hurried to get a newspaper, opened it and looked for a story on our great win over Newton. It was a great story, but the reporter wrote that someone besides me had made the interception."
"The reason why the reporter got it wrong was because my usual #51 jersey had been ripped earlier in the game, and, when the coach sent me back into the game, I had to wear a jersey with a different number."
Nearly sixty years later, we now know the real story of that momentous play in the win over Newton, and many more of O'Neil's accomplishments as a student-athlete in the Fall of 1943, all of which support the induction of No. 51, Bob O'Neil, into the Watertown High School Athletic Hall of Fame.
"Bob O'Neil was a quiet leader, never blew his own horn, but everyone on the team recognized that what he did on the football field was damned good," said Don Costello, HOF Class of 1996, who was part of a tremendous backfield that included another Hall of Famer, the late Bobby Clark (HOF Charter Member, 1992).
The newspaper's preseason previews predicted great things in the Fall of 1943 for O'Neil and the Jack Crowley-coached Raiders.
"The line is big and fast and will come along with more game experience. Crowley has one of the best centers in the business in Bob O'Neil. Besides being a good offensive lineman, O'Neil is great defensively and a great ball-hawk. He seems to sense every play and is a standout at pass interception."
"We had several great players on that team," recalled O'Neil, the second of 11 children who grew up on Oak Street in East Watertown, across from the Hood Rubber Plant, one of the only local businesses where there were steady jobs during the Great Depression years of the 1930s.
"Bob Clark was an outstanding football player and athlete. Pete Crowley at end was from my neighborhood, too," said O'Neil, who was listed at 5-foot-10, 170 pounds in his senior year. "Art Barbarian and Ernie Papazian played right guard and right tackle that year, and they grew up in East Watertown."
All of these East Watertown natives started for the Raiders and contributed to the pair of shutouts against Belmont (14-0) and Brookline (19-0) in Weeks 1 and 2 of the Fall 1943 season.
The Watertown Sun glowed about O'Neil after the Brookline win.
"Bob O'Neil is a really good schoolboy center. At Brookline he intercepted two passes and was a defensive stonewall."
After O'Neil and the Raiders suffered an 8-0 setback the following week against Winthrop, Watertown rallied and shut out their next two opponents, Winchester and Newton, both by a 19-0 score.
"Our offense was hard to stop and Bob had a lot to do with that," Costello recalled. "A lot of things happen through center. The center has to call the right play and make sure everybody is in the right place."
"We had a great goal line and extra point pass play call where Bob would hike it through my legs, to Bobby Clark, then I'd slide between the center and the tackle into the end zone and Bobby would throw me the ball," Costello continued. "Whenever Bob O'Neil called that play, it was always open and the other team couldn't stop us."
Cambridge could not stop this play or any others in Week 6, as the Raiders prevailed, 32-0. Woburn proved to be a tougher challenge the following game, as Watertown eked out a 7-6 result to improve to 6-1.
"The Woburn game, that was one I remember all these years later," O'Neil said recently from his home in Mashpee, MA, which he built himself prior to his retirement in 1991. "Woburn had a running back – couldn't have been more than five-foot-six, 130 pounds, but when I tackled him, he was a rock."
Though Watertown dropped a 14-0 loss to Melrose in early November 1943, the Raiders concluded the season with a win.
"I remember that game – we won 19-7. That was the last game of the season and the last game of my high school career," said O'Neil, who was an all scholastic for the Boston Post and the Boston Herald, which put O'Neil on its first team of all-stars.
"Bob O'Neil of Watertown enjoyed a slight edge over Vaughn Bogosian of Medford in the selection of the center berth on The Herald team," it was reported on November 28, 1943. "Coach Jack Crowley of Watertown, one of the best defensive backs to ever wear the purple of Holy Cross, credited O'Neil with playing a tremendous part in giving Watertown one of the best records it has enjoyed in recent years."
Like many of O'Neil's classmates, he served in the military upon graduation or turning 18. Given O'Neil's talents in the classroom, he qualified for the Navy Officers V-5 program at Holy Cross, where he studied and trained for eight months until the program was discontinued.
At that point, O'Neil enlisted in the regular Navy and served as a seaman first class in the Pacific, where he was able to see the Enola Gay before it was sent to bomb Hiroshima, which led to the end of hostilities with Japan and World War II. His name appears in Watertown Town Hall with other decorated World War II veterans including his brother, George O'Neil.
O'Neil continued his collegiate studies after his discharge, which included stints at St. Anslem's and University of Miami. After returning to Watertown in 1949, O'Neil took the Harvard University entrance exam and was accepted, allowing him to complete his bachelor's degree there in 1951.
"Bob presents very significant credentials for admission to our Hall of Fame," said Ben Akillian, WHS 1948, HOF 1997, who was a classmate of O'Neil's at Harvard from 1949-1951. "Don Costello has been an invaluable historian for the WHS Athletic Hall of Fame Committee. He has [reminded] the committee of those past stars who may have been missed for entry. One such person is Bob O'Neill."
"He is ecstatic about his nomination," said O'Neil's daughter Ellen O'Neil Foley, who used to accompany
Her father to watch Harvard games in the 1960s. "He is such a quiet person, worked hard, and always took care of his family. This means so much to him."
O'Neil and his wife Libby enjoyed raising their four children locally in Waltham – Ellen, Stephen, Bobby and Mark. Stephen O'Neil was a standout for Waltham High, like his father, a center and linebacker. The younger O'Neil graduated in 1978 and was inducted into the Waltham High Athletic Hall of Fame in 2005.
Stephen O'Neil liked to wear #51 like his father did. Like son, now the father is a member of his high school's Athletic Hall of Fame.