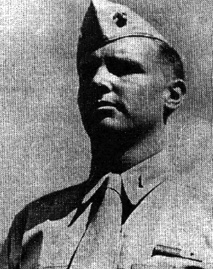 Visitors to Bill Shannon's Wayland home are greeted by a wall studded with World War II decorations and medals. One is immediately reminded of the recent book by Tom Brokaw chronicling The Greatest Generation, raised during the Depression and tested on the battlefields of Europe and the Pacific islands, returning home to build the United States to great prosperity.
One medal stands out on that wall: the Navy Cross, the highest decoration a naval or Marine serviceman can receive, granted for "extraordinary heroism, " and second only in distinction to the Congressional Medal of Honor. Bill Shannon earned that medal under fire on the first day of the invasion of Iwo Jima in February 1945 -the battle with the highest casualty rate in the Pacific war. A second lieutenant at the time, Bill led his platoon inland under withering mortar and artillery bombardment. When his men were held up by a well-placed Japanese machine gun emplacement, Bill did not back down: despite the odds — and the heavy gunfire, which wounded him — he and two comrades stormed the position and secured his company's advance. And so one small part of the battle was won.
Bill Shannon, then, is a hero~ far beyond any Hall of Fame's ability to honor him. Yet, who is to say that his days on the playing fields of Watertown High School did not, at least in some small way, contribute to his character and initiative on the battlefields of World War II? For Bill had long since demonstrated those traits, not to mention a great innate athletic ability. Consider his contribution to the 1939 WHS baseball squad, which with a 20-4 record and a second place finish statewide, probably ranks as the school's greatest ever. Surrounded by such Hall of Fame teammates as George Yankowski, Oscar Khederian, Bill Kearns, and Mike Calden, Bill hardly played second fiddle; he ran up a 5-1 record with a 1.90 earned run average, allowing just forty-one hits in over fifty innings of sterling work. "Most coaches would shout for joy if they could tick off such an array of pitching talent! " crowed a local scribe. And many joyful shouts were, indeed, heard to come from Victory Field that year as the local nine ran off win streaks of eight, six, and five games -all the way to the state finals against perhaps the strongest schedule in high school baseball. The best team doesn't always win; but Bill Shannon usually did.
He stood out similarly on the ice, where he earned regional notice as a standout goaltender. Bill was the Bay State League's All-Star goalie two years running, "waxing immense between the pipes," as the Boston Post put it. His efforts sparked one of the biggest upsets in scholastic hockey his senior season, as a dogged Watertown effort held eventual state champion Needham to a tie.
Graduating from WHS in 1940, Bill went on to Northeastern University where he continued as a top goalie and pitcher. His career was interrupted as war broke out. But after his very active tour of duty in the Pacific Ocean, he returned to Boston and picked up where he had left off. His first game back on the mound was a three-hit victory over Tufts, and he didn't look back. He also added a new sport to his repertoire-football. Despite never having played the game in high school, Bill used his athletic prowess to great effect, becoming a star end for the Husky gridiron squad.
After graduation, Bill concentrated on work and family. Both paid off: he now boasts seven children and twenty-three grandkids, and is retired from the glass supply company he built. When asked about his many accomplishments, though, Bill's thoughts still return to that February day in the South Pacific. Wounded in that first epic charge, he went back to the hospital ship and was not able to return to his company for the better part of a week. When he did, he found many of the Marines he had known since boot camp dead or seriously wounded. Even today, he thinks about whether he could have helped, whether he could have made a difference.
The answer to that question cannot be known, in one sense. But in another it is quite clear. Bill Shannon did make a difference, to many people, in many arenas of life. And the Hall is grateful for it.