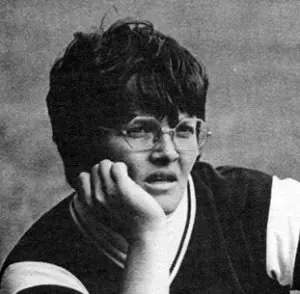 Basketball, Track/Field, Tennis
In the early sixties, womens' basketball was a half-court game: players were assigned to offense or defense alone. And Beth Devlin, pulling down a rebound or spinning to the hoop, would often spy the far basket and wonder why it was that it was out of bounds. Was it unladylike to sweat? Were girls incapable of making' it down to the other end of the court? It all seemed a little silly.
Indeed, it was that; but it was disparaging, too. Female athletes of these generations played largely for pride, their skills passed over, their interests and talents not encouraged to blossom fully, their achievements largely unrecognized.
We are glad to say, however, that Beth Devlin escaped that trap – thanks both to the sheer magnitude of her ability and to the strong support of her family. Her father, Jim, a thirty-year veteran of the Watertown police force and rabid Boston Braves' fan, always encouraged her from an early age to develop her athletic skills. Family outings or picnics always had a game attached~ and Beth took part in whatever organized (or semi-organized!) activities the town or neighborhood had to offer, even flag-tag football. Girls couldn't play Little League, so Beth helped her father coach; later, in ninth grade at the East Junior, she was able to put her diamond skills on the field in intramural softball. Her performance there, along with her showings in basketball and field hockey, earned an award as 1959's outstanding female student-athlete.
That was a sign of things to come. At Watertown High, Beth continued to excel, playing field hockey, basketball and tennis (and even making her mark in the Rifle Club). Her senior year she captained the hoops squad and averaged eighteen points a game; as her class yearbook noted, "Beth is happiest when playing basketball:' Not surprisingly, she was named the Class of 1962's best female athlete. Class president John Airasian recalls that "she excelled at everything she did, in whatever sport – she was truly ahead of her time. She was the best athlete in our class. And she was a good student, respected by everyone for her smarts and her skills."
During the summers, Beth continued to coach Little League and served as a playground instructor for the Watertown Recreation Department as well as a member of its travelling softball and tennis teams. Rumor has it she played a little full-court basketball, too, and played it rather well. Ben Raute, himself a Hall of Fame athlete, recalls that as a young teenager he would go to Victory Field for recreation programs, and "it was very clear, even to a middle school student, what an athletic talent Beth was:' Not only that, she was a great teacher as well, establishing a real rapport with the kids she coached.
After high school, Beth went to work for New England Telephone but she didn't give up her athletic participation. Indeed, as the years went on she branched out into an even wider variety of sports- and, if anything, only got better Her versatility is astounding: she was, simply, good at everything. Starting in the middle 1960s she was the MVP five years running of New England Telephone's women's softball league, leading her squad to title after title. She played flag football, well enough to lead her team to the Boston Park League title three years in a row and to second place in the 1977 national tournament held in St. Louis. She even became a championship bowler
Beth became president of the Ruth Kirby Fast-Pitch Metro-Boston Softball League in 1976. She later served as head coach of the league's Lexington Colonials from 1978 to 1981, and of the Brighton Drifters from 1983 to 1984. This set of tasks grew out of something close to her heart: for nine years in the seventies, Beth was a player-coach for the Waltham Drifters, a nationally-recognized fast-pitch softball squad that attracted ya large enthusiastic following. Over those years the Drifters were New England regional champions three times, in 1972, 1974, and 1975; when they would la the Ra bestos Brakettes out of Stamford, CT, five thousand people would crowd into Cornelia Warren Park to see the Brakettes' Jane Joyce, the foremost softball pitcher in the country. Beth, it should be duly noted, got a hit oft of her.
Beth worked for New England Telephone (later NYNEX) for thirty-three years, and recently retired. But she has remained active and interested, not just in athletics (she is a 25-year season ticket holder with the Patriots) but in community service as well. Working with the Telephone Pioneers of America she has put together events ranging from special needs track meets to collections for food pantries and homeless shelters to holiday events at veteran's hospitals. Now living in Randolph, she serves as an instructor in ESL in the Quincy Literacy Program, and as a member of the Randolph AIDS Awareness Task Force. As on the diamond, she remains a team player, helping to pick up those around her
That's not surprising. As Beth puts it, "athletics is something that develops enthusiasm and hard work; you don't have to be the best, but you have to work to be the best. The commitment to the team is the most important thing. My best friends are still my best friends from the Drifters."
It is that life-long dedication and drive, that love of teamwork – and, of course, her pioneering and unquenchable talent – that has propelled Beth into the Hall of Fame.