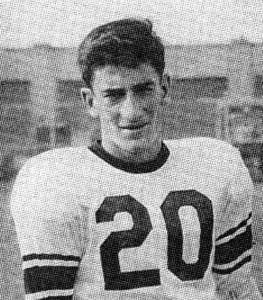 Football, Baseball, Basketball
When Watertown attorney Bob Kaloosdian, Benny Akillian's classmate and lifelong friend, heard of the latter's impending induction into the Halt, he managed to sum up in a phrase the basis for the honor: Benny, he said, was "a man for all seasons" That meant the seasons of sport, of course – the diamonds of spring, the turf of fall. But it also meant the seasons of life, for Ben's achievements are many and varied, run through with two common threads -their manifest magnitude, and his own humility.
Ben's family came from Armenia in 1919, escaping the genocide; he was born in 1930, the youngest of five children. He spoke little English upon entering school, but was soon integrated into the language of athletics. Sports in those days revolved around the sandlot; organized youth athletics were yet to come. But each neighborhood had a team. Ben's was "Muzzo's Corner," centered on the corner of Dexter Avenue and Hazel Street. He still remembers fondly as well their main rival, the River Rats, made up of people like Dick Phelps, the Faherty Brothers, and Bill Fleet. Phelps recalls that Ben showed his Hall of Fame spark even then.
That spark flared into a flame on the playing fields of Watertown High School. He starred in three sports. He captained the basketball squad, a "key man in the Red and Black's groundwork:' He was a force in the backfield for Joe Murphy's gridiron gang, as well as one of the state's best placekickers. And he roamed the baseball diamond with grace and power His classmates named him their year's best athlete.
A surprising array of sources converge on Ben's playing personality. "Quiet but highly talented" noted one Boston paper "A team man all the way;' a local scribe said. Hall member and teammate Frank Cousineau recalled that Benny was "as gifted and talented an athlete as any player in my time, but one of the quiet ones. You don't hear much about this type of player – he just got things done:' Aram "Sonny" Gavoor classmate and teammate, used some of the same words: "Benny and Wicky [Bill Wickstrom] were the heart of our teams. They were the on-field spark. Benny was a quiet leader, someone you could always count on."
Had he not been so humble, Ben would have had more than ample material with which to boast. Against Belmont on Thanksgiving Day his junior year, news accounts were happy to do it for him: "easily the star of the day. In the second half he treated the audience to an all-Scholastic display of leather lugging, in which he exhibited speed, change of pace, swivel-hipping, cutting back, spinning, and many other choice items." He won the McHugh Trophy as the game's most valuable player as the Raiders triumphed 20-6. The next year, despite recurring injuries, Ben led the team in scoring after racking up 34 points in the season's first four games. Against Dedham he was dubbed the "Hat Trick Kid" in honor of a 3 TD, 3 extra-point performances. And he played both ways, no less a menace on defense; a constant interception threat, in one game against Framingham he keyed the Raider win by picking off a pass and running it back 60 yards for a touchdown.
These football feats aside, baseball may have been Ben's best sport. Speedy and strong-armed, he played left field, shortstop, and pitcher A local paper noted that he was a "courageous" player not to mention" fast, strong at bat, and one of the cleverest base runners on the team." Batting over .500 his senior year he won WHS' Potter Trophy as its best baseball player And he was chosen by the New York Yankees as one of the top five local high school prospects and offered a minor league contract in their farm system.
Instead, Ben chose to pursue a different dream and attend Harvard College. There, he continued to star as a three-year starter and permanent resident among the Ivy League batting leaders. In one game the college paper gloated that he "submarined the Navy," going 3 for 3 with a triple and three runs scored, including an audacious steal of home. Hall member Tom Oates recalls that "Benny was the kind of person who would run through walls if it furthered his team"; and in one game against Northeastern he proved it, giving teammates a scare when, in typically daring fashion, he dashed home with the tying run and was hit in the head with the throw. He walked away, and the Crimson won the game.
Ben's aptitude for the Ivy League, is clear, makes it obvious that there was more to the man than a sharp batting eye. He had been, after all, two-time president of his high school class, active in a wide variety of academic activities – even the Math Club! He starred no less in the classroom than in the locker room, a member of the National Honor Society and the select Cum Laude Society to boot, and was named one of two Class Marshals; the WHS newspaper rightly praised him as "far and away the outstanding scholar-athlete of the year" He did nothing at Harvard to contradict that prophecy. And so, when after his collegiate career, the Yankees came knocking yet again, it should come as no surprise that Ben elected instead to attend Harvard Business School.
After military service in the Army, Ben joined government service and retired not long ago from Natick Laboratories. He lives in Ashland with his wife Vivian and enjoys his three children and two grandchildren. And in retirement he has still managed to contribute to his community, coaching and giving of himself to help teach young special education pupils.
As noted above, it's impossible, when talking about Ben, to find a detractor despite his great abilities and the scope of his life's accomplishments, he remains humble and hardworking. He has carried himself through his endeavors and challenges with dignity, doing the best he can with the tools God gave him. His demeanor, perhaps, reflects the quiet but intense pride of a first generation family, proving itself in a new land, grounded in history and eager for the future. Ben Akillian has lived that creed, to be sure, has proven himself across the fields of play and the arenas of life: "as time required," writes the poet, "a man of marvelous mirth and pastimes, and sometimes of as sad gravity." His achievements, in all their callings, in all their seasons, are worthy of our admiration; and the hall is proud to do just that, this spring.