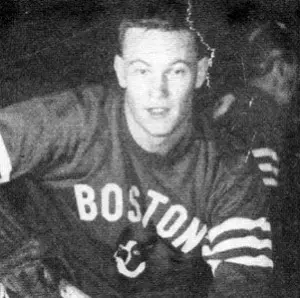 Hockey, Football, Baseball
In the winter of 1947-48, something odd happened in Watertown. It was something that had never happened before, and that would not happen again for more than thirty-five years. And Art Shannon was quite literally at the center of it.
The event, of course, was Watertown High's first league hockey championship. And Art, as one Boston scribe had it, was "the spark of the Watertown clan, . . . the boy that has carried the leaders over the rough spots this winter, . . . a tireless worker, a great stickhandler, and a potential scorer whenever he is on the ice." Art had grown up skating on the frozen Charles River; his first set of hockey gloves came to him from Fred Cusick legendary voice of the Boston Bruins, who played hockey with Art's older brother. Art put that early training to great use at WHS. His standout performance his junior year earned him a league All-Star berth in 1947. Then, in the historic 1948 season, Art led the league in scoring with fourteen goals and twenty points in the first eight games alone. He was named to the first-team of the league All-Star squad and a variety of all-scholastic teams, hailed by the Boston press as schoolboy s classiest center. Without taking away from the achievements of the entire "iron six" – all six of the WHS starters were named to the Bay State League All-Star team, a first in Massachusetts high school history – or from the immense contributions of Coach Joe Murphy, it is fair to note, from contemporary local press accounts, that Art "stood out like snow on the campus grounds." Teammate and goalie Henri Kasbarian, no mean athlete himself, called him "the most prolific scorer of our era. Art was a tremendous all-around athlete; put him on the ice and no one could put the puck in the net like he could." Boston College legend John "Snooks" Kelley considered him one of the most promising high school prospects he had seen.
Art's athletic achievements were not limited to the rink, however. He earned nine varsity letters in all as a three-year varsity member of the football and baseball squads as well. On the gridiron all-scholastic Art displayed impressive flexibility at both ends of the offense with a "cannon arm quick legs and soft hands (along with defensive work that leaves little to be desired) for Joe Murphy's powerhouse 1947 squad. On the diamond the third baseman earned league All-Star honors and honorable mention to the state all-scholastic ranks his sophomore season – batting .365 – then full honors his junior and senior years.
Heavily recruited upon his graduation from WHS in 1948, Art earned a scholarship to Northeastern University. There he picked up where he had left off, both in baseball (leading the freshman team in hitting) and in hockey, as the Huskies' leading hockey scorer his freshman and sophomore years. In one game against Harvard he netted three goals in a nineteen second span, ending the game with an astounding five goals and four assists.
After his sophomore season Art transferred to Boston University and continued to shine as a member of BU's nationally ranked and tournament-bound hockey squad. He put in a stint for Eddie Shore's Springfield Flyers of the Atlantic Hockey League, and played in the first Beanpot tournament, held in 1953. Capping his tremendous collegiate career, Art was named to the All-New England hockey team following his senior season. He graduated from BU, with honors, and as president of his class, in 1954.
Art dedicated his professional life to teaching and coaching, to giving back to the community that had nurtured him. He worked in the Watertown school system for twenty-eight years, teaching at the Parker School and serving as assistant principal of the Cunniff School under John Oates. He served as junior high and varsity coach for hockey, leading his team to the 1959-60 State Junior High School championship and taking the reins at WHS in 1961, as well as coaching freshman football and baseball. Such athletes as Bob Norton and Richie Green (a future Hall member himself) came through the Shannon ranks. Art retired from the Watertown schools in 1984, which seemed fitting – for it was that year that the Raiders battled to their first league hockey crown since the magic of 1948.
A quick anecdote serves as an appropriate coda to Art's story. It seems that in the late summer of 1969 Art gained additional fame as a real-life hero, earning a medal for valor after he saved two boys in a small rowboat from a pounding Scituate surf. But to those who knew him best – the people of Watertown – Art's quick and courageous action came as no surprise at all. That very fact sums up perhaps better than any athletic achievement the reasons that the Hall is proud to honor Art Shannon.