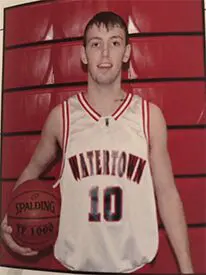 Like many of the esteemed student-athletes in the Watertown High Athletic Hall of Fame, Anthony Coppola was a multi-sport athlete.
But it was in the gym and on the basketball court under the direction of Hall of Fame coach Steve Harrington where he was most dynamic and successful.
"Anthony was relentless," Harrington said of the 2007 alumnus who will be inducted into the Watertown High Athletic Hall of Fame next Friday. "He had tunnel vision all the time, but especially as a senior, when we knew as a program we could make a good run at the program's first state title."
And after a grinding, 18-game Middlesex League schedule, a brutal battle through the Division 3 North sectionals, a glorious trip to the Boston Garden, and four clutch free throws by the cool, calm, and collected Coppola down the stretch to cap a nail-biting one-point victory in Worcester, Raiders did indeed get to hoist the trophy.
Like many of Harington's troops, Coppola started out at the Boys & Girls Club playing Biddy Basketball. He even admitted, "On occasion, I would skip CCD and head over to the club to shoot."
As Coppola got older, bigger and stronger, WHS basketball was akin to "Friday Night Lights," and the rising star couldn't wait to be part of the program. But first, he had to beat his father in one-on-one in the backyard. Emilio Coppola, captain of the WHS team as a senior in 1980, was a natural shooter, and handed down many critical fundamentals to his growing son. Anthony admitted he started beating his dad on the court around fifth grade.
"From then on I became too quick for him," he said. "But he definitely helped my form."′
Finally in middle school, Harrington challenged the eighth-grader, telling him if he worked hard all summer, he could most likely help the Raiders as a freshman. Sure enough, Coppola made the varsity as a ninth-grader, and came off the bench to average six points a game for the 14-7 squad.
Not a bad way to start a career for a future League MVP.
As a sophomore, Coppola averaged 17 points per game, and helped lead a loaded WHS team to a 22-0 record and a date in the North Sectional final with Lynn Tech at Tsongas Arena. He dropped 26 on them, but Tech prevailed. As a junior, and now a team captain, the maturing 6-foot-1 shooter grew his season scoring average to 18.5, and led the Raiders back to Tsongas Arena and the North final. This time an inspired Minuteman Regional team dropped WHS in overtime, despite 28 points from Coppola.
That summer, Coppola guided his teammates through a tenacious, but gratifying, two-month "preseason."′
Harrington said he saw "many good signs from all the players. But I could tell Anthony had a laser focus about him. He worked on his outside shooting, but also committed himself to the weight room and gained about 15 pounds of muscle to help his inside game. He had a tunnel vision that I knew would be inspiring."
Under the spotlight, and always the focus of the opposition's defenses, Coppola's senior year was one for the record books. He recorded 666 points, breaking the single-season school record. He finished with 1,558 career points, also good for No. 1 on the school's all-time list. He was a three-time Middlesex League All-Star, and after averaging 26.7 PPG, was voted the League MVP in his final year.
He led the Raiders to a second-place finish in the always-challenging Middlesex League. Most importantly, he anchored the squad to a perfect 5-0 record in the postseason, and the program's first state title.
Coppola and the Raiders began their championship run with five point victories over Minuteman and Bishop Fenwick to set up a rematch with Bedford in the North finals at Tsongas Arena. The game was tied at 38 with eight minutes to go when the captain took over.
Coppola helped stretch the lead to five with a bullet pass to Kyle Stockmal. Then he pretty much buried the Bucs with a dagger 3, and it was on to the Garden after another five-point win, 63-58. Coppola played the Medfield game in the EMass. final with a sore ankle and a recently broken finger. His long-range shooting limited, he managed only 14 points in the 65-51 win, but as a sign of better things to come he was 8-for-8 from the foul line.
In the championship game, which featured five ties and five lead changes, Coppola battled through the injuries and led the Raiders to a dramatic 62-61 win. He scored a team high 24 points, including 10-for-11 from the line. The Worcester Centrum Raider fandom was delirious as Coppola calmly sank the last four points of the game for Watertown from the foul line in the last nine seconds to seal the victory and the school's first state title in basketball.
He scored 1,558 career points, but none bigger than the final four.
Coppola continued his successful basketball career at Wheaton College, where he maintained a tremendous shooting touch. As a freshman, he tied a school record with four 30-point games, and hit the second most 3-pointers ever in school history. He was named the D3hoops.com Northeast Region Rookie of the Year, was voted to the D3hoops.com All-Northeast Region team, earned the NEWMAC Rookie of the Year, and joined the NEWMAC All-Conference team.
He finished second in career points at the school with 1,863, third in field goals made (632), eighth in field-goal percentage, second in total 3-pointers (233), third in 3-point field-goal percentage, third in free throws made (366), and sixth in steals with 142. All four years he was voted an All-Conference player.