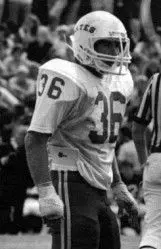 Most people believe the 1977 Watertown High football team was their best ever and those same people will tell you that Al Mandrafino was one of the biggest reasons why. A 1977 tri-captain of the only 10-0 team in Raider history, Mandrafino was an outstanding two way lineman doubling as an offensive guard and a defensive linebacker and on May 9 will get his just due as an inductee in the Watertown High Athletic Hall of Fame.
"Boy, he was an excellent football player," John Barbati, who was head coach of the Red Raiders from 1969-1992, said. "When I look back at some of the great players I coached, he certainly sticks out in my mind. He wasn't big but I tell you he was a fierce competitor. I loved watching him play. He was a true captain as well because he was a tremendous leader and he really loved the game. He even loved practice."
In that magical '77 season Mandrafino, who played football at Watertown High since he was a freshman, really came of age. As a senior, besides being voted one of the tri-captains, he was voted team co-MVP, was named a Middlesex League all-star and was even good enough to be noticed as a Boston Globe All-Scholastic. Mandrafino made a huge impact on both sides of the ball all season long. He even picked off four passes in his line backing spot.
"That's because he was very smart," Barbati recalled. "Besides having great talent, he could sniff out a play better than anyone and with his speed and agility he really made things happen."
An example of his quick thinking may have been the difference between winning and losing the Middlesex League title that season. In week two of that year the Red Raiders took on Melrose and were involved in a very close contest.
"I remember things not going so well offensively in that game," Mandrafino said. "We had trouble moving the ball on them. So late in the game, I went up to right guard John Strayhorn before a play and said 'let's change the blocking scheme on this play. I will take your guy and you take mine.' On the next play Steve (running back Steve "Sparky" Lyle) found a big hole and ran a long one in for the game winning touchdown."
The Raiders would win that game 9-6 while Melrose, who ended up 9-1, suffered their only setback of the year. A loss to them would have erased an undefeated season and the team's third Middlesex League title in five years.
It's things like that which made quarterback Pat Barry real glad to have a guy like Mandrafino on his offensive line but the 1977 Raider signal caller also recalls watching Mandrafino play on defense, referring to him as the best linebacker in the state that season. Barry, like his teammates will tell you, that off the field Mandrafino was the nicest guy in the world but that would change once he stepped foot on the grid-iron.
"On game day he turned into a lunatic," Barry said. "He was the original Mike Singletary the way his eyes bulged out. He was so intimidating. He'd get up from a tackle and say something to the opponents. But I tell you he was never a dirty player, just a tough one. He was extremely intimidating on the field but he was equally as mild mannered off of it. He set the example for all of us on how to play the game on the field and how to act off of it."
Fellow teammate Chris Berardi recalls some of the special qualities Mandrafino had and why, even though Mandrafino is currently living in Idaho, he is still one of his best friends today.
"We all knew how good he was talent wise," Berardi, who played tight end and defensive end alongside Mandrafino said. "He led the team in tackles in nearly every game. But what made him such a great leader was the type of person he was. He was such a great team player. He always helped the younger players and would do what ever it took to help the team out. As fierce as he was on the football field he never acted like a tough guy. That is why he was so likeable and so well respected. Even today the players on that team think the world of him."
Warren Tolman is one of those people who think the world of Mandrafino. As a teammate of his and fellow senior in that 1977 season, you don't have to convince the former State Senator that Mandrafino was one of the main reason's that team was the first football squad to be inducted into the Watertown Hall of Fame and become the only 10-0 team in Raider history.
"What most people may not remember is that we were 1-2 the season before and we ended up winning the last seven games," Tolman said. "And then of course we won all ten in 1977 so we actually won 17 in a row and Albie's (team called him Albie) play was obviously a big factor. He was very strong and very quick. I remember him being as tough as nails. Pound for pound there was simply nobody tougher than Albie. He always seemed to make the big stop for us more often than not. And like everyone will tell you, he was the nicest, easy going person off the field but then he put his helmet on and buckled his chin strap and then look out."
After graduation Mandrafino went to New Hampton Prep for a year and then went on to Bates where he met up with his old friend and teammate once again.
"We played against him when I was at Amherst and I will never forget that game," Tolman said. "The center on our team (Todd Albert) was lined up against him and he told me afterwards that Mandrafino was by far the toughest guy he ever went against. To this day he will ask me how Albie is doing and it wasn't because they became friends or anything. He asks because he gained so much respect for him for the way he played the game. It wasn't dirty. It was just hard-nosed and tenacious."
While playing for Bates, Mandrafino made an impression at the Lewiston Maine College as well. While playing four years there, he was twice named the team Most Valuable player while leading his squad to some uncharistically good seasons.
"We didn't have too many winning seasons here but when we had Al we were pretty competitive," Bates coach Webb Harrison, who coached the Bobcats from 1978-1991 said. "For a relatively small (6 ft. 200 lbs.) linebacker he was exceptional. The thing I remember most about him is that he was all business on the field and very alert. The fact that he played four years here also tells you a lot about him because not many guys were good enough to do that."
Harrison also thought that Bates was a perfect fit for a guy like Mandrafino. All the things Maine had to offer like skiing and hiking were things Mandrafino enjoyed. He really liked playing football at the college as well but he still thought it paled in comparison to his high school playing days.
"Playing college football was a great experience for me but to me there's nothing like playing football for your hometown," Mandrafino said. "Especially in my day when Coach Barbati and Coach (assistant coach David) Hughes helped build a great tradition. Belonging to Watertown's outstanding football tradition is what really motivated me. The expectations and demands at that time were especially helpful in my college career. I knew how to play thanks to my experience at Watertown High."
The lone disappointment about the 1977 season was that the Raiders were denied a chance at the Superbowl by 3/10 of a point. Had Needham, who finished the season at 1-9, got one more win, Watertown would have played in the big game. However, the nod went to Norwood and Arlington.
"The funny thing is we beat both Norwood and Arlington rather handily in the pre-season, "Barry said. "I am sure we would have won the Superbowl. It was a shame we didn't go to that but the one thing you can't take away from us is the fact that we were undefeated and though, I may be biased; we were the best team in Watertown history. And we certainly owe some of the thanks to Mandrafino for that."
When Mandrafino was notified by Berardi of his hall of fame induction he was more than thrilled. Living in Idaho now and thirty years removed from living in Watertown, Mandrafino thought he was all but forgotten.
"He will never be forgotten around here," Berardi said. "You couldn't possibly deserve the hall of fame honor more than him."